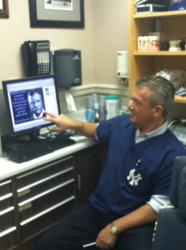 We admire Dr. Lembo for stepping up in the Proposal of the 28th Amendment. If put through, we have no doubt that it will improve this country on a social and economical level.
Haledon, NJ (PRWEB) February 12, 2013
Since the beginning of the New Year, Dr. Lembo has been quite busy. He continues to pioneer his therapy dog treatment during his procedures, which has many of his patients returning with a smile. He also took a big step towards fighting periodontal disease and has brought in a new specialist, Dr. Michael Jaffin to help combat the disease. As his fight to improve the quality of dental health continues at Belmont Dental (http://www.belmontassociatesnj.com), Dr. Lembo has yet again taken an ambitious step forward in hopes of improving the quality of life for people outside of his dental office as well.
As of this January, Dr. Lembo has officially petitioned the creation of the 28 th Amendment, which states "Congress shall make no law that applies to the citizens of the United States that does not apply equally to the Senators and Representatives; and, Congress shall make no law that applies to the Senators and Representatives that does not apply equally to the citizens of the United States." Dr. Lembo's digital marketing partner, Route 72, agrees that it is time to level the playing field between Senators, Representatives, and their citizens. Jim Alamia, CEO and Founder of Route 72 Systems states: "We admire Dr. Lembo for stepping up in the Proposal of the 28th Amendment. If put through, we have no doubt that it will improve this country on a social and economical level."
Dr. Lembo has announced that the proposal can be viewed and signed on Cause.com. Users can also invite friends to sign the petition posted on the website as well. In less than a month, over 600 people have already signed the petition. There are just over 400 days left in the petition and Dr. Lembo has no doubt that many more will step forward with him. Dr. Lembo states: "I am pleased to see so many signatures in such a short amount of time. If passed, the 28th Amendment will make our government equal to its own citizenship, which is crucial to our continuing development of our country and our future."