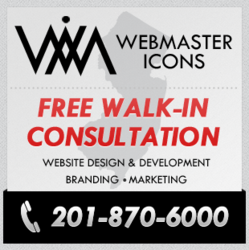 We wanted to make it as easy and convenient for anyone to come in and sit down with one of our professionals
Little Ferry, NJ (PRWEB) August 29, 2012
Leading New Jersey web design service provider Webmaster Icons (http://www.webmastericons.com) has announced today that it is offering free walk-in web design consultation services. Local small businesses in New Jersey looking for web design and development are encouraged to come to Webmaster Icon's office in Little Ferry, NJ. The consultation session will cover all aspects of design as well as highlight areas on-page that can be improved to deliver a better experience for the users and to drive higher conversions.
The free consultation service is a part of Webmaster Icon's current campaign to provide the best customer experience in the web design and development industry.
Andee Fonder, president of Webmaster Icons, says that "We're not looking to nickel and dime everyone for every little thing. We want to make it as easy and convenient for any of the local businesses to come in and go over things that they could do better about their website's design and/or functionality."
The primary purpose of providing a free consultation service is to help small local businesses navigate the intricate website design and development process but Mr. Fonder says that this service is also being offered to anyone looking to start their own web property.
"We wanted to make it as easy and convenient for anyone to come in and sit down with one of our professionals so we can associate faces with a website and devote more attention towards it. We love working with businesses and individuals alike, regardless of the project they may require help with, be it a small personal website or a fully scalable e-commerce domain."
The consultation itself can take anywhere between thirty minutes to an hour. Each individual session is unique with regards to the subjects covered.
According to Mr. Fonder: "Everyone who walks through our door is instantly taken care of and every case is different. Some people may need things like a new logo and a complete re-design of the theme, others may not; it all depends on the individual's needs so that's why we're inviting people to the free consultation."
Webmaster Icons had its origins as an icon design company. Now the company has grown to a full service design and development agency capable of accommodating almost any project or service request. While the company specializes in web design and development, it does also offer several other internet marketing solutions, including SEO, SEM, graphic design, brand identity, PPC, and hosting.
To sign up for the free consultation or just to find out more information, you can visit Webmaster Icon's website or call them directly at (201) 870-6000 and ask for Andee Fonder.