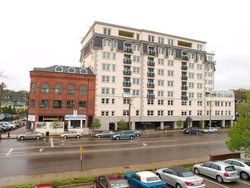 We used to say, build it and they will come. Now we say, build it spectacularly and they will come
New London, CT (Vocus) October 14, 2010
New London Harbour Towers, luxury residences with resort-like amenities in the heart New London's Historic Waterfront District, today announced that it has won three Home Building Industry Awards (HOBI Awards) from the Home Builders Association of Connecticut. New London Harbour Towers won in the categories of 'Best Attached Community,' 'Best Marketed Community,' and 'Best Special Promotion Event.'
The HOBI Awards is the state's most prestigious housing industry program, recognizing excellence in new construction, land development, remodeling, sales and marketing, and home financing. The HOBI Awards showcase the best products and services offered by its members and in its awards, highlight the strengths of New London Harbour Towers in marketing, promotional and building configuration.
"We used to say, build it and they will come. Now we say, build it spectacularly and they will come," said Anthony Silvestri, project manager of New London Harbour Towers. "We did not hold back on any detail as it relates to quality, amenities and energy efficiency. The success we've experienced from our marketing program has truly established Harbour Towers as an important addition to the vibrant Historic Waterfront District. We are honored to receive the awards and accolades of the Homebuilders Association of Connecticut.
The HOBI Awards will be presented November 9 at the Aqua Turf Club in Plantsville, Connecticut.
About New London Harbour Towers
Few residences can match the exceptional offerings of New London Harbour Towers - located at Columbus Circle in New London, Connecticut's Historic Waterfront District. Boasting sweeping views of the Thames River and Long Island Sound, New London Harbour Towers is the only luxury residence in the region with multi-level, secured, covered parking and elevator service. Each residence comes with its own secured storage unit and reserved parking space. This property includes a fourth-floor recreational deck complete with an indoor/outdoor solar heated spa-pool with whirlpool jets and endless pool system, a full exercise facility, pub-style community room with flat screen TV's, and a private movie theater with stadium seating. For more information please visit: http://www.NLHTonline.com
###