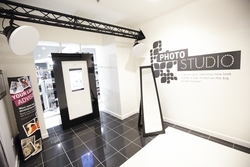 The screens and photo studio do this perfectly as they allow our customers to do the things they love the most when they visit us.
(PRWeb UK) November 22, 2010
New Look, the affordable high street fashion retailer, have teamed up with Incredibull Design Agency to offer their Dublin store customers a photo shoot experience that could see them super-imposed on the cover of the New Look magazine.
Within the fitting room, the store have dedicated a space to the 'New Look Dublin Photo Studio', where customers can get dolled up in the best glad rags that New Look have to offer and interact with the touch screen to take a photo of themselves which will be posted up to the large feature screen instore.
Whether the customer is rocking the latest in must have fashion shoes and boots or dazzling the crowds with one of the companies new sexy sequin party dresses they will find themselves super-imposed in the pages of the New Look Magazine and if they choose to email their picture to themselves they will receive their image super-imposed onto the front cover!
The would be models are also invited to share their 'Cover Girl' image with a friend by simply adding their email address, with the option to also upload it to their facebook page, allowing friends and families to have a sneak peek at what they are planning on wearing for New Years eve.
Fran Theanne, the Design Concept Senior Manager at New look was quoted as saying "At New look we are constantly looking at new and innovative ways to give our customers a fantastic shopping experience. The screens and photo studio do this perfectly as they allow our customers to do the things they love the most when they visit us; shop, try on new clothes, model their latest look, share it with their friends instantly and all with the added bonus to become the cover star of the New Look magazine. We have even created a video which is presently up on youtube for customers to watch to get an idea of how the experience could work for them http://www.youtube.com/watch?v=MfqEDAAycc0".
The screen being used in the Dublin store is a massive 4080mm wide x 1540mm high and is made up of microtiles which are the latest in screen technology. New Look are the first retailer in the UK/Ireland to use the Microtile technology, which has been shipped in specifically from the United States for the photo.
About New Look
New Look are award winning fashion retailers, and offer a wide choice of clothing to suit all tastes. From jackets to handbags, maternity clothes to jumpsuits, mens shoes to kidswear, New Look offers glamorous clothing at affordable prices.
###