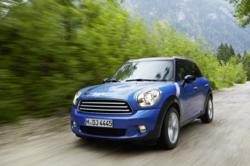 Great deal on any Mini including the new 4 x4
(PRWEB UK) 5 June 2013
Expect slight increases to their £18,065 and £18,975 starting prices, but AutoeBid can guarantee the best new car discounts on either car using its unique reverse auction process, which always achieves the lowest price from its network of over 1,600 dealers.
Carbon dioxide emissions rise marginally over the front-wheel drive models, as does fuel consumption, but the trade-off in efficiency for more security and versatility will be seen by many as worthwhile. Both cars come with a manual gearbox as standard, but an automatic transmission will be available as an option. As mentioned, all-wheel drive cars are popular, and this is evidenced by the fact that these two new models will bring MINI's total all-wheel drive offering to ten. The Cooper Countryman and Paceman will each develop 122bhp from a 1.6-litre 4-cylinder engine, with power and torque distributed to where it's needed most.
MINI already offers a range of cars equipped with all-wheel drive, including the other variants of the Countryman and new Paceman models.
AutoeBid can offer buyers the best deals on models such as the Countryman Cooper SD ALL4 (143bhp/57.6mpg) and Paceman Cooper S ALL4 (184bhp/42.2mpg). Prices for the Paceman Cooper and Countryman Cooper ALL4 models will be confirmed closer to July. In the meantime, below are some new mini discounts on current four-wheel drive MINI models, often saving hundreds of pounds on any new Mini.
Countryman Cooper SD ALL4 RRP £27,170 AutoeBid £25,356 Saving £1,814
Countryman Cooper S ALL4 RRP £27,520 AutoeBid £25,695 Saving £1,825
Paceman Cooper SD ALL4 RRP £29,070 AutoeBid £27,125 Saving £1,945
Paceman JCW ALL4 RRP £32,225 AutoeBid £29,974 Saving £2,251