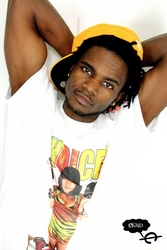 New York, NY (Vocus) October 28, 2010
New music: Love Story Song, Sour Sugar, is one of the most creative songs emerging from new music 2010 offers. Not only is the new song entertaining, but it's sweet and sour theme offers valuable dating and relationship advice. Music that explores emotions and detailed aspects of a man's mind in a relationship, it should be on the iPod of people globally in a relationship.
"Sour Sugar is a song I came up with from an on-line dating experience. Met a girl from New York City during a summer road tour. The bad and good of that online dating experience inspired me to write (a poem and song). Dealing with a long distance relationship made a lot of trust issues clear, which were the Sour, but her personality was sweet, Sugar" says writer of the Sour Sugar song, C KhiD.
A perfect love story tale always comes with the sweet ending and sour intervals. C.KhiD's Sour Sugar song makes people feel good about staying with their love through the rough times, something new music of 2010 radio lacks often. There is also a music video for C.KhiD Sour Sugar on YouTube that parodies dating and relationships, which couples can share a laugh over together. Featuring former Miss South Carolina pageant contestant, Ashlea Sherman, alongside the new music star, there are comedy relief skits throughout video. From chasing C.KhID with a stainless steel pan to him smiling, almost enjoyably, every time she fights to stress her point-- Sour Sugar is a tale which any one ever involved in relationships can relate.
"Relationships are like a glass of sour lemon juice... no matter what, enough sugar can make it sweet lemonade. I think every relationships is like this. There will be sour times no matter what, but enough sugar or sweetness from someone you love can make everything great at the worst time. I write new music 2010 rarely sees and aim to create (confusing) relationship advice that helps couples and marriages struggling stay together. This is my John Lennon 'Imagine' meets Bob Marley mind state," continued C.KhiD.
Rising up the new music 2010 charts and YouTube video ranks, Sour Sugar is virally spreading through fans sharing. Over 80,000 ringtones downloads and 87,000 video plays have been made to the song since release. Fans of the C.KhiD love story song, Sour Sugar, constantly write how the new music is a favorite of theirs and a relationship relief. Perfect for a New York winter love song or fun San Francisco Bay walk, the Sour Sugar music video is not yet featured on MTV, BET, FUSE, or VH1 television. Partnered with YouTube, C.KhiD's new music videos are however being released through the on-demand video entertainment Website.
Discussing the reshooting of a new music video, C.KhiD is openly negotiating with companies to sponsor a grand idea for a fun New York City filming of Sour Sugar. Wishing to deliver a full love story plot, he wants to shoot the video in the SOHO and NOHO districts of Manhattan and release the entire film on YouTube. No specifics have been released about this initiative, but as a current YouTube partner, he will have the video sharing site's support to release the full film.
Download C.Khid Sour Sugar on iTunes today and vote 'thumbs up' for love after watching the official music video on YouTube. A very 'different' and well-studied music artist, C.KhiD's music is diverse enough for everyone in the world.
###