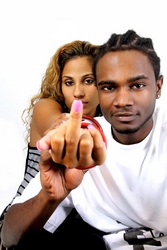 Greenville, SC (Vocus) November 11, 2010
'New Music 2010' is where rising Hip Hop star C.KhiD's name might be spoken by school students and young adults. The South Carolina born rapper gave up hoops dream of becoming his hometown's next Kevin Garnett to become the first major music artist from Mauldin. In an interview recently with DopeHood.com, he bared detailed truths about his 'new music' and what exactly he sees as "Beyonce Music."
"I have pre-teen cousins that listen to my music and I can't feed them the poison of fallen women's ambition and traits. I call my new music, and videos like the Bad Chick song, 'Beyonce music' because Beyonce is the embodiment of a Queen. She strived and demanded respect, instead of settling for an easy way out. With no excuses, she provided for herself," said C.KhiD about his new songs niche called 'beyonce music.'
Appreciated by his female fan audience, C.KhiD's new hip hop music video for "Bad Chick" has over 11,000 views. Being passed around and shared by those that support C.KhiD, the music video numbers grow rapidly. Facebook support alone has mounted to nearly 500 likes by fans. The new interview on DopeHood.com is also sure to get the new music video widely spread.
Featuring five female entertainers in the music video, C.KhiD directed the artistic visual for Bad Chick himself. Wanting to represent the essence of Hip Hop clothing, music, and culture he verbally paints his vision of a Bad Chick. Twisted in is some inspiration from Charlie Chaplin. Each 'bad chick' silently acts the role of different personas of beautiful girls.
"My chicks bad in this video. If only I could get one in real life (laughter). The glamour models in this video are awesome. Shantell Reisigner, Erika Estrada, Charlie Browning, Victoria, and Chrystan Johnson are beautiful girls. They are accomplished in their own ways... Special girls, I will always love to represent for them" wrote C.KhiD of the models in the new music video.
New song, 'Bad Chick' is on album "Black Box Dreams 2." Download C.KhiD's new music 2010 releases on iTunes today and support his progressive movement. Featuring other hit songs "Cheerleader", "Wonderful Girl", and "Sour Sugar" it has a lot of positive energy for his youthful audience while still using an everyday mentality.
###