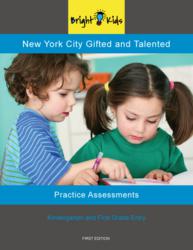 New York, NY (PRWEB) October 31, 2012
On October 10th, the NYC Department of Education announced changes to the Gifted and Talented testing program. This year the NNAT®2, or Naglieri Nonverbal Ability Test, will weigh 2/3 of the total score. The Verbal section of the OLSAT® will compromise 1/3 of the total score. This is not the full OLSAT® test as it does not include the Nonverbal section. In response to these changes, Bright Kids NYC has released three new titles to help prepare students for the new test.
The NYC Gifted and Talented Assessments for K and 1st Grade entry is the first new publication. It is one full-length practice assessment that is identical to the format of the test given in New York, including 30 questions from both the NNAT2 and OLSAT Verbal. While these tests are not always given together, the NYC Department of Education has paired them to provide a complete evaluation of a child's skills. The NNAT2 is a nonverbal ability test that examines a student's visual-spatial reasoning skills. The OLSAT Verbal, on the other hand, tests a child's ability to answer questions based on instructions that are read aloud, a skill that is commonly associated with school achievement. In addition, Bright Kids is offering the same book for older students, the NYC Gifted and Talented Assessments for 2nd Grade entry.
To prepare students for the OLSAT Verbal portion, Bright Kids is also releasing Arithmetic Reasoning (Pre-K - 1st Grade). This book contains 100 questions split into 6 sections. While the concepts covered are common to a number of books, including the OLSAT, ITBS, Stanford-Binet, and CogAT, it is a central skill on the Gifted and Talented Exam. The OLSAT Verbal contains three subtests: Arithmetic Reasoning, Aural Reasoning, and Following Directions. The Arithmetic Reasoning subtest of the OLSAT challenges a student to answer a math word problem that is read aloud. The practice in this book is crucial since this subtest requires comprehension, core math skills, and attention to detail.
The NNAT®2, which will be given in full, covers four subtests. Pattern Completion, where students will look at a design and identify which portion is missing. Reasoning by Analogy (or Figural Analogies), which challenges students to recognize relationships between several geometric shapes. Serial Reasoning, where students identify a sequence and select the answer that completes the sequence. Spatial Visualization, which challenges a student to combine two or more objects in the same way as an example and find the resulting figure.
Contact Bright Kids NYC today if you have any inquires about these books or are interested in signing up for our Gifted and Talented tutoring.