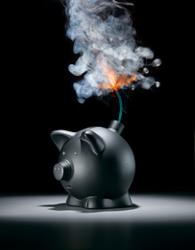 "Most people class click fraud as a problem exclusive to pay per click advertising," Mr. Chapman said. "Our report shows that advertisers are suffering click fraud through their organic search listings too."
Reno, Nevada (PRWEB) September 13, 2012
Online advertising click fraud continues to plague online advertisers as perpetrators discover sophisticated ways of committing click fraud. A new report compiled by pay per click management firm Webrageous lists a number of acts of click fraud that are difficult to detect and which are therefore the most dangerous.
While click fraud may not as be as huge a problem as it is often hyped up to be, the report by Webrageous shows that click fraud definitely exists and is continuing to impinge on online advertisers in a number of ways.
Webrageous Director of Marketing David Chapman said the report has found that click fraud is not just a problem in paid search advertising but in organic search advertising as well.
"Most people class click fraud as a problem exclusive to pay per click advertising," Mr. Chapman said. "Our report shows that advertisers are suffering click fraud through their organic search listings too."
This type of click fraud is not as complex as that involved in pay per click advertising as money is not involved. However, it is no less concerning. Online advertisers need to be aware that this type of click fraud on organic searches is happening.
In organic search click fraud, a company may employ someone or various people to continually click on their listing in order to try to raise the position of their listing on a particular search term. This may affect the listings of other competitors who are not committing click fraud for that search term. An advertiser's natural search traffic could suffer as a result of this behavior.
"Of course, it is important to remember that all major search engines are on the constant lookout for click fraud," Mr. Chapman said. "Also, there are many other factors that affect an organic search listing, such as landing page optimization and choice of URL.
"If someone is constantly clicking on their own search listing, they will not be able to maintain the top position for long. If an online advertiser is after one of the top positions on the organic search listings they would be much better off employing an online advertising expert to optimize their website. The expert will also be much better able to detect click fraud occurring on competitors' listings."
Click fraud that occurs in paid search advertising is much more complex and requires a team of online advertising experts that are experienced in detecting click fraud and their clients' campaigns.
Webrageous has particular expertise in monitoring and detecting click fraud and has helped numerous clients avoid the disastrous effects of click fraud on their accounts.
The most recent report on paid search advertising click fraud conducted by Webrageous has found the following types of click fraud:
1. Competitor Fraud: This type of click fraud occurs when someone wants to remove a competitor from the top of the search engine listings. They will have someone repeatedly click on their competitor's advertisements, driving up the number of clicks charged to the advertiser and bleeding their budget dry. This will end up affecting their click through rate (CTR) and conversion rate.
In this situation it is particularly important to catch the click fraud early on before it significantly damages your pay per click advertising campaign. An online advertising expert qualified in pay per click and highly knowledgeable about click fraud is the best way to avoid this type of fraud.
2. Affiliate Fraud: This type of click fraud involves affiliate websites that generate revenue every time someone clicks on the advertisements on their website. Occasionally those websites will click repeatedly on the advertisements to boost their earnings. If your advertisement happens to be one of those listed on that particular affiliate site then your clicks will rise while your conversion rate will not, costing you more in online advertising.
The search engines will pick up if clicks are coming from a similar location or IP address to the owner of the affiliate website and the owner will be reprimanded. The problem comes when the affiliate websites employ someone unrelated to the company and outside of the geographical location to continuously click on the listings on their site.
However, online advertising experts will be able to detect a spike in clicks on your advertisements stemming from a particular listing and will immediately investigate that rise in clicks to see whether click fraud is involved.
3. Impression Fraud: This type of click fraud occurs when a competitor employs someone to enter a search term over and over again. This will cause your advertisement to receive many impressions but no clicks at all, let alone conversions. When no clicks are registered, your CTR will plummet. A very low CTR could cause a search engine to disable your listing, determining it as unrelated to the search term. This leaves your competitor free to capitalize on the search term.
The nature of this type of click fraud is that it can be very difficult to detect as no click action actually occurs. This is another case where it is crucial to have an expert managing your online advertising campaigns.
4. Automated Fraud: This type of click fraud is similar to the above types of fraud but involves robots or crawlers clicking on advertisements, following links or entering sites, rather than humans. The results of this type of click fraud are the same. It depletes online advertisers' budgets, messes with the reporting and assessment of their campaigns, and can severely affect their ability to continue advertising online.
"Webrageous found all of these types of click fraud when conducting its investigation into whether click fraud is a big problem for online advertisers today," Mr. Chapman said.
"Unfortunately, while we did find that it is not as big a problem as may be thought, it does continue to occur. The randomness of many click frauds means that no online advertiser can be too careful in protecting themselves from click fraud by employing an expert in online advertising.
"While the incidents of click fraud are not high, when it comes to your business you cannot be too careful in protecting your online advertising campaigns and everything that you have built."
To find out more about Webrageous and its team of click fraud experts, consult the company's website: http://www.webrageous.com. To organize an interview with David Chapman about the report into click fraud, call 530-553-1111.