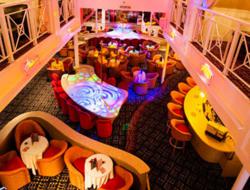 We've worked to distinguish ourselves and set a precedent for New Orleans strip clubs...
New Orleans, LA, (PRWEB) September 18, 2012
The Penthouse Club has been honored to receive its third consecutive award for the best New Orleans strip clubs in Where Y'at magazine's "Best Of The Big Easy". The selections were chosen by online and mail-in reader surveys, which were then reviewed and published by the magazine.
Owner John Kirkendoll is proud to have received the honor again this year. "We've worked to distinguish ourselves and set a precedent for New Orleans strip clubs," says Kirkendoll. "We're thrilled to have earned the title yet again and hope to continue the trend in the future."
The Penthouse Club is currently the largest gentlemen's club in New Orleans, located just off the Bourbon Strip on Iberville. The beautifully spacious interiors are designed to create a one of a kind experience unrivaled by any other local strip club. New Orleans visitors can view exotic dancers showcased on three different stages with state-of-the-art light and sound equipment, enhancing the experience rather than detracting from it. Also included are two bars with a staff serving a selection of beers, top shelf liquors, and wines, as well as an exclusive bottle service menu of champagnes and wines ranging from $80-$1,000 a bottle. With a full calendar of events, there's always something new happening at The Penthouse Club.
What distinguishes The Penthouse Club from other New Orleans gentlemen's clubs is their wide array of options for private parties and events. Above the main club are four Junior Executive Suites, ten Penthouse Suites, and the exclusive VIP Executive Suite, each designed to allow parties to relax and take a break from the club atmosphere and enjoy a more intimate venue with the entertainers.
"We also have a VIP membership," says Kirkendoll. "We cater not only to the tourism that comes through the Quarter but to a lot of locals, too. This membership grants you and four guests free entry for one year and exclusive invitations, discounts, and access privileges to other Penthouse Clubs nationwide, including the recently opened Penthouse Club Baton Rouge."
For more information on the Penthouse Club, ranked amongst the best New Orleans strip clubs, you can call (504) 524-4354, or visit their website for pictures, tourism information, and their calendar of events. The club is located at 727 Iberville St. in New Orleans' historic French Quarter.
About Penthouse Club
Penthouse Club New Orleans is an upscale adult entertainment venue that is deserving of the name 'gentlemen's club.' Named "Best Gentlemen's Club in New Orleans" for three years running, the Penthouse Club New Orleans offers 15 suites with varying levels of intimacy and a fully stocked bar with fine beers and top-shelf liquor, wine and champagne.