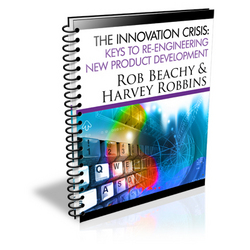 The Innovation Crisis: Keys to Re-engineering New Product Development
Minneapolis, Minnesota (PRWEB) February 27, 2008
Rob Beachy and Harvey Robbins are excited to announce that they have collaborated on a new White Paper on New Product Development called "The Innovation Crisis: Keys to Re-engineering New Product Development," which is available online as a complimentary download at http://www.newproductdevelopmentseminar.com/whitepaper/. The fact that only about 10% of innovations get to the marketplace and that 60% of product failures are due to failure to meet the customer requirements, really underlines the need for expert guidance in the New Product Development. The lack of such guidance has been the driving force behind this collaboration to produce this new White Paper.
"The secret to successful New Product Development is really not a big mystery, nor is it easy. If you look at companies that continually produce a stream of successful, innovative new products, you'll notice that they share these five basic characteristics," said Rob Beachy. These characteristics and good executive leadership are key to continual New Product Developement success.
"Direction should be given by the firm but gentle hand of management throughout the entire New Product Development process," said Rob Beachy. "And yet more time is lost in management inattention or indecision than in any other area of New Product Development." Just how to benefit from that direction and to limit the time lost are two important aspects that the White Paper explains.
Harvey Robbins goes on to explain that "critical to New Product Development success is your ability to create high performing teams. The very fate of your New Product Development efforts depends on the ability of team members to get on the same wavelength as others. You can't even begin to align your New Product Development team's vision vertically and horizontally within your organization until you address the thorny issue of toxic relationships," he said. "How you get people on a team to work effectively together across these differences is known as versatility, which is the number one skill of effective leaders."
"Unfortunately, not every organization makes the connection between excellent teamwork and excellent innovation," said Robbins.
With insights like these and with a system packed with valuable New Product Development processes, tools and techniques, the White Paper is a virtual fountain of information for the New Product Development Professional. The strategies discussed have been used successfully with corporate clients over the past 30 years and will keep you well ahead of the competition. The Product Innovation Charter tool introduced in the White Paper is used by some of the most innovative companies and will clarify where your company is headed.
The White Paper is a must read for all professionals interested in New Product Development best practices and overcoming the innovation crisis. It is available as a complimentary download at http://www.newproductdevelopmentseminar.com/whitepaper/.
"The Innovation Crisis: Keys to Re-engineering New Product Development" forms the basis for a New Product Development Seminar that Rob Beachy and Harvey Robbins will be presenting in Bloomington (Minnesota) from May 20 to 21, 2008. Attendees will also benefit from more than $1000 worth of bonuses that include two leading New Product Development screening software, the Axiom Screening Tool and Axiom Portfolio Benchmarketing Tool.
About Rob Beachy
Rob Beachy is a certified New Product Development master practitioner and consultant whose resume includes heading the New Product Development efforts at General Electric, Gould and The Toro Company. Rob has consulted for nearly 30 years with organizations worldwide in the area of New Product Development implementation processes and has over a dozen patents bringing in over $1 billion in revenue.
About Harvey Robbins
Dr. Harvey Robbins is a licensed psychologist, whose critically acclaimed books include "Why Teams Don't Work" (winner of the Financial Times/Booz Allen & Hamilton Global Business Book Award) and "The Accidental Leader." Harvey's expertise is in teamwork and leadership development and has held executive positions at Burlington Northern, Honeywell, and the CIA. He is also a Fellow at the Executive Development Center at the Carlson School of Management of the University of Minnesota and a popular speaker at both national and international conferences.
###