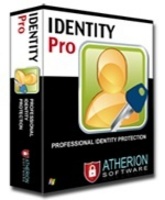 Victoria, BC (Vocus) April 24, 2009
The RevenueWire Network has made a significant product acquisition that has the potential to produce windfall revenue in the short and long term.
This recent product acquisition is just one of the many new products being brought to the network as part of RevenueWire's aggressive campaign to provide top-selling, high-quality PC Utilities to its member affiliates.
Atherion Identity Pro, created by Atherion Software LLC, is now LIVE on the RevenueWire network for all its member affiliates.
Atherion Identity Pro goes far beyond current protection offered by anti-virus, anti-spyware, anti-spam, or anti-phishing, etc., to protect you in ways others programs can't. It automatically scans your machine, and finds and protects your important personal data with a powerful scan, encryption and lockdown protocol. The key to Atherion's genius is it's unique US Military Technology, capable of locating all personal data hidden from previous user entries then encrypting that information thoroughly enough that no thief can steal it from your PC.
Around the industry Atherion is being touted as a major software breakthrough because it fulfills an undeniable market demand. Recent Federal Trade Commission (FTC) reports say that 1 in 6 PC users will be victims of Identity Theft in the coming year. Those sort of numbers could easily put online identity theft in the category of "epidemic." With hundreds of millions of PC users worldwide, there is massive business opportunity to explore for Atherion Identity Pro and its powerful functionality.
Plus, at a 75% commission on the RevenueWire network, affiliates will have no trouble making top-dollar on this exciting new software product download.
"With the introduction of Atherion to our network we are bringing onboard one of the most highly-touted security software products to hit the Internet in years. Identity theft is probably the single most important consumer concern right now in the industry, and Atherion Identity Pro directly addresses that concern with its groundbreaking performance and functionality. We're very much looking forward to having it as part of our product offering", said RevenueWire CEO, Havind Sehmi.
Matthew Henne, Co-Founder of Atherion, stated regarding its partnership with RevenueWire, "We're excited to work with RevenueWire. Their vision and hands-on management have created a quality affiliate network that will benefit Atherion, our partners, and our customers. Through RevenueWire we'll be able to reach the consumers who need our products the most."
About Atherion Software LLC
Atherion Software LLC is committed to protecting end users and their PCs by identifying new threats and providing new solutions. What does this mean to you? In the volatile world of computer security and safety, Atherion consistently stays ahead of the pack by maintaining and optimizing the health and efficiency of the computers they protect. It is not enough to provide a solution to an existing problem, we consider it our duty to search for and anticipate new threats and other issues facing computer users today. Founded by software security and utility experts, Atherion's background includes experienced experts from Microsoft, Aluria Software (now an Earthlink company), McAfee and the financial industry. We believe we are on the cutting edge of software technology and will consistently maintain the highest level of protection for our users. You are in good hands with Atherion Software.
Contact:
Jamie Southworth
http://atherionsoftware.com/
About RevenueWire
Founded in 2007, RevenueWire entered the growing affiliate-fueled e-commerce arena as an exciting new platform for digital product merchants and affiliate marketers. RevenueWire's payment processing system SafeCart™ combined with highly accurate sales referral tracking and easy-to-use analytics tools, provide both affiliate marketers and merchants with highly profitable digital product promotion and sales.
Contact:
Barry Ringstead, Marketing Director
RevenueWire, Inc.
http://www.revenuewire.com
# # #