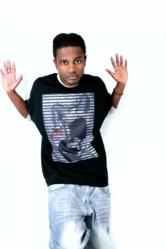 Atlanta, GA (Vocus/PRWEB) February 01, 2011
New Rap Songs 2011, the latest project of Hip Hop music artist C.KHiD has a release date. Slated for Thursday, February 27th, the record will feature 15 tracks. Fans of the artist can will love the first week reciprocation of love, as C.KHiD is giving away "New Rap Songs 2011" free on iTunes, DopeHood.com, and http://www.NewHipHopSongs2011.com the first week.
"New Rap Songs 2011 is a great album. A 50 Cent interview and David Guetta tempos inspired 'Like Your Birthday,' the craziest song on it. Everybody has a birthday daily so I made music to celebrate right. Then New Country, which salutes Barack Obama, is a great song for American pride, representing our new unity," spoke C.KHiD on the new rap records.
The 'New Rap Songs 2011' album is part 5 of the Black Box Dreams, C.KHiD album series. A follow up to his last album "New Hip hop Songs," (aka BBD4) the new music artist has reached over 400,000 unit downloads total. Hoping free will be a way to increase download totals dramatically, it's surely going to help.
"Free music to me is recognizing fans in recession. Now of course they gotta pay attention to get the album free, but I am definitely giving New Rap Songs 2011 aka Black Box Dreams 5 away free," continued C.KHiD.
C.KHiD will be working on Hip Hop shirts for this album's release as well. Collaborating with KicksAndChicks.com sneakers blog, two "Dreamers Tee Shirts" will be released on the official C.KHiD store February 27th as well. Founder of the first Hip Hop clothing trends website, SoJones, C.KHiD boasts he was born with the ability to personify style.
Search iTunes today for 'C.KHiD' to download albums Black Box Dreams 1 through 3 and New Hip Hop Songs. The rapper's albums are only $5.99. Free singles are leaked via SoundCloud, Twitter, Facebook, and other blogs randomly.
C.KHiD is a pioneer to Hip Hop fashion, music, and entertainment online. Also the President of digital entertainment group, CKHID, he is working on a blueprint to digital HipHop success. CKHID, an acronym for 'Cannot Kill How I'm Dreaming,' is a brand which he creates careers for artists by setting up various revenue streams from online social networks and media stores. The official website can be found at http://www.CKHID.com.
# # #