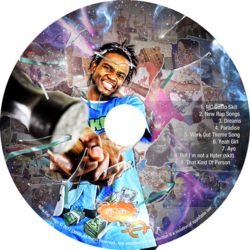 I'm always thinking how I can be that person 2pac said he would spark. That person to do better & change the world
Los Angeles, CA (PRWEB) August 09, 2012
New Rap Songs, the first C.KHiD album of 2012, releases today. The social media loved talent chose August 9th for the official release just weeks ago. Anticipated by fans of viral videos "Yeah Yeah", "One Fast Life", "It Is What It Is", & others, this project exceeds expectations.
An E.P. album release, New Rap Songs, has nine new songs for C.KHiD fans and newcomers to indulge.
Production on the Hip Hop album comes from a variety of talent. The well-known beat makers Carlos Paez of Dresmore Music, Matt Houston, Roscoe Beatz, Netherlands producer "GUE Beatz", and Koncept are all involved with the New Rap Songs project.
Don't be fooled by the new album's title. Unique lyrical content for the 2012 Hip Hop generation, C.KHiD's 7th studio album is more than just new rap songs.
Cannot Kill How I'm Dreaming, the meaning of name C.KHiD, is a reminder to fans. An acronym for the mentality you must have to become successful and a reminder of his difference. The new album is for people who live mentally in excellence.
"I live my music and I want to do better. I'm always thinking how I can be that person 2pac said he would spark. That person to do better & change the world. I think my new album [ New Rap Songs ] is pulling me closer," said C.KHiD in an interview with BallerStatus.com
What's the rapper's aim? He does not define it vocally, but the album-titled single "New Rap Songs", says a lot:
"New Rap Songs, They All The Same, If You Tired of Them, Here's a New Wave" raps C.KHiD on the song's chorus. A complex single lyrically, the song's content is rarely seen in the Hip Hop 2012 era.
The official track-listing for C.KHiD "New Rap Songs" E.P. album:
1. MC Gusto [ skit ]
2. New Rap Songs
3. Dreams
4. Paradise
5. Work Out [ skit ]
6. Yeah Girl
7. Ayo
8. The Hater [ skit ]
9. T.K.O.P. ( That Kind Of Person )
The single "Paradise" will vary on the iTunes "New Rap Songs" album version. The Koncept Beats produced single, contains a classic instrumental sample that inspired the rapper, but will not be sold or performed by the rapper.
Music videos will be shot for most new songs on the iTunes album version. The sure-hit viral music videos will be launched on youtube.com/ckhid and other social media sites beginning late August.
A fan of fellow rappers like Wiz Khalifa, who raps of the Trippy Stick lifestyle. A fan of Jay-Z, who talks that talk like no other. C.KHiD has his own lane to ride.
This new E.P. album, New Rap Songs, will show the world the Carolinas have greater music talent hiding in the south's arbor cities.
The "New Rap Songs" EP album is free for download beginning today at official site, CKHiD.net. The short-length album will also be available on iTunes for .99cents, beginning August 15th.
Fans of rapper C.KHiD can keep up with the rising talent, the New Rap Song album, & other projects on twitter @CKHiD.