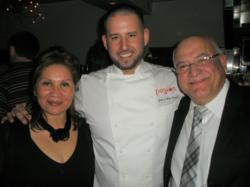 Today we are celebrating two out of the three most important things in my life: my daughter, Julianna, and my new San Francisco restaurant.
San Francisco, CA (Vocus/PRWEB) February 02, 2011
On Saturday, January 15th the usually intimate San Francisco Latin American eatery Pasión Modern Latin Cuisine Restaurant, located in the Inner Sunset District one block from Golden Gate Park, was afire with salsa music, dancing, and fine Latin American delicacies.
Although there was hardly room to move, the wait staff ensured there was no interruption to the flow of fine South American wines and Pisco sours to partygoers throughout the restaurant.
A large crowd of friends and family celebrated the opening of the hotly anticipated new spot from the executive chef of Fresca. In addition to the grand opening, owner Jose Calvo-Perez celebrated the fourth birthday of his daughter, Julianna.
"Today we are celebrating two out of the three most important things in my life: my daughter, Julianna, and my new San Francisco restaurant, Pasion, said Calvo-Perez. "Of course my wife, Vanessa, is the third," he quickly added before affectionately kissing her smiling lips.
Calvo-Perez started cooking in his father's restaurant, Fresca, when he was just sixteen. He studied the culinary arts in Europe, South America, and the Caribbean. His family owns three Fresca Peruvian restaurants in San Francisco, and recently opened Pasión in the Inner Sunset to showcase his creativity with Latin cuisine with a modern edge.
Calvo-Perez draws from the culinary traditions of Peru, Argentina, Uruguay, Brazil, Mexico, Puerto Rico and Cuba when developing his modern Latin cuisine. The restaurant is quickly gaining popularity for its wide selection of artfully prepared ceviche, tasteful dishes prepared on their wood-burning grill, and extensive wine list.
The party proved Pasión as a festive San Francisco party venue. There was no shortage of laughter and smiles in the large, yet surprisingly intimate, gathering of family and friends. The fiery salsa band, Mazacote, lead by Louis Romero, kept the dance floor at capacity.
"Jose is not only a creative chef, he is also wonderfully warm and friendly and knows how to throw a party," said Rebecca M. "Pasión just celebrated its grand opening complete with loads of sample Peruvian tapas, Pisco sours, and live salsa music by some of the Bay Area's best performers."
For more information about Pasión Restaurant, phone them at (415) 724-5727, view their website at http://www.Pasiónsf.com, or visit their restaurant located at 737 Irving Street, between 8th and 9th in San Francisco's Inner Sunset district.
About Pasión Modern Latin Cuisine
Pasión is a new San Francisco Restaurant that specializes in modern Latin cuisine. The owner and executive chef, Jose Calvo-Perez, is well-known for his family's award-winning Fresca restaurants.
Pasión specializes in ceviche and artfully prepared sea food, beef, chicken, lamb, and duck dishes. Seafood specialties include ahi tuna, shrimp, calamari, oysters, mussels, and clams. Dinner service begins at 5:00 pm, daily. The restaurant is closed on Tuesdays.
# # #