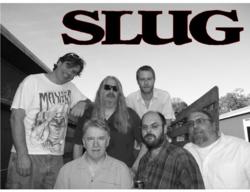 Our mission is to support local music and give the audience a chance to discover 'their new favorite band'. NRPS has been great enough to join us in our festivities and will be delivering to us one explosive finale. - Kellie Fletcher
Turin, NY (PRWEB) July 29, 2012
The rock band SLUG, with special guest Lindsay Dombeck, will lead a bill featuring an eclectic lineup of more than a dozen of central New York's best bands at Fletch Fest 2012 at Snow Ridge in Turin, NY on August 17-19. SLUG, which is host of Fletch Fest, will headline both Friday and Saturday night at the three-day music festival that will culminate with an appearance by the legendary New Riders of the Purple Sage (NRPS).
Fletch Fest 2012 was born from the wedding plans of Forestport, NY couple Stephen and Kellie Fletcher, who instead of a traditional wedding reception decided to invite their family, friends and several of their favorite local musicians to a two-day concert instead. The event went so well they decided to turn it into a showcase for musicians from throughout central New York.
There will be vendors, food, refreshments, and fully stocked bar available inside the venue. RV camping and full amenities will be available and free tent camping will be allowed. $50 pre-sale tickets to Fletch Fest are available now.
SLUG's lineup includes Steve Fletcher (lead vocals and rhythm guitar); Chris Andreski (lead guitar and backup vocals); Chris Dunn (bass guitar and backup vocals); Joe Trisolino (harmonica and backup vocals); Bob Moore (drums); and the band's newest member, keyboard player Mike Finley.
New Riders of the Purple Sage is an American country rock band. The group emerged from the psychedelic rock scene in San Francisco, California in 1969, and its original lineup included several members of the Grateful Dead. Their best known song is "Panama Red." The band is sometimes referred to as the New Riders, or as NRPS.
For the full festival lineup, and tickets visit Fletch Fest 2012 or contact:
Kellie Fletcher
Gypsy Hollow Promotions
Phone 315-723-0520,
315-392-4618
kellie(dot)fletcher(at)fletchfest(dot)com