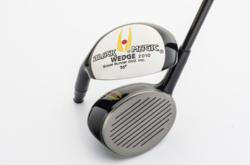 Lower Your Score With The New Sand Wedge By Black Magic Wedge
Nationwide (PRWEB) June 12, 2013
This is not your average hybrid sand wedge, and the reviews prove that to be the case.
It doesn't get much better for us die hard golfers who love standing on the first tee box looking out at a beautiful golf course knowing we will be faced with many unknown challenges. It is nice to have the confidence to meet those challenges with the one club that will be pulled out of the bag many times and that is the sand wedge.
Their Black Magic 56 degree golf wedge, conforms to USGA rules for top level competition.
What all golfers want out of their sand wedge is to have the confidence to be creative with all the short shots that they will have in a game of golf. It seems there are never two shots similar from the bunkers to the rough and everything in between. This is why it is necessary to be creative with your wedge. The Black Magic 56 degree golf wedge that is much different looking than a standard sand wedge allows golfers to be creative. This new design makes laying the face open very easy to do for those short shots that need fast lift without worrying about shanks due to the no hosel on the face design and the hybrid sole plate that reduces the chances of chunking. There are many times when a player needs a shot that will rise very fast in a short distance and stop quickly in order to save unnecessary strokes. This is where the Black Magic sand wedge delivers on its promise.
Bunker shots become less fearful with this new sand wedge design. There is no need to hit way behind the ball taking a chance of chunking it. With the Black Magic Wedges, you can pick it clean just like off the fairway. Tight hard pan lies are a problem for many golfers, but with this wedge that has a sharp leading edge to dig into the turf but as the club moves forward it will slide very easily due to the hybrid bottom allowing golfers to complete their swing in lifting the ball easily off hard pan lies.
"When you're out on the links, you don't want to find yourself in the sand. But that's often an inescapable reality. However, if you've got the right tools in your bag, it makes what could be a horrible situation a little more palatable, especially when you've got the confidence that your club will deliver on its promise," the spokesperson added.
About Black Magic Wedge
Blade Runner Golf, Inc. is a company that is very serious about the notion that a golfer's short game can make all the difference in his or her final score—and that players can take their short game to the next level if they only have the right club from which to choose. Black Magic's hybrid wedges conforms to USGA rules, but also helps golf enthusiasts find new precision and power as they make their way onto the putting green. Black Magic Wedge can be reached on the web at http://www.blackmagicwedge.com.
Contact:
Black Magic Wedge
2519 McMullen Booth Rd
Suite 510-129
Clearwater, FL 33761
Toll Free Phone: 877-799-6099
sales(at)blackmagicwedge(dot)com