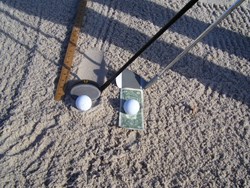 Introducing a New Sand Wedge that Is Perfect for Taking Strokes off the Short Game, Courtesy of Black Magic's Innovative Golf Wedge
Nationwide (PRWEB) December 31, 2013
It's a fact that the short game in the game of golf is one of the most challenging aspects for success on the links and the score card. Now, thanks to equipment maker Black Magic, there is a new sand wedge which delivers exceptional performance, no matter the player's skill level.
With this 56 degree golf wedge, players can concentrate on more positive thoughts with short game shots like how the ball will react when it hits that specific spot on the green instead of worrying of hitting a shot way off line due to a shank or chunk shot leaving the ball short of the distance needed. These are just a few of the problems for adding too many strokes to the score card.
One big problem associated with the short game is bunker shots where so many players have negative thoughts even before attempting to execute the shot at hand. What you want is confidence knowing that it is not that hard and with the Black Magic 56 degree wedge it is not that hard. Players can enter the sand 6 or so inches behind the ball without getting stuck. This wedge slides very easily through the sand and with its sharp leading edge that will scoop up just enough sand to cushion the ball at contact lifting it easily up and over the lip of the trap and onto the green.
Black Magic sand wedge rates very high on the list for shaving unnecessary strokes for all skill level players. This is due in part to the placement of the hosel which is attached to the body of the club instead of the face. It gives golfers a complete view of the face when performing all types of shots without the worry of hitting a shank.
Conforming to the latest USGA Rules, this wedge gives players an edge because its face leading edge delivers improved lift enhancing performance in soft pitch shots, chip shots and lobs. Designed with the user in mind, this club is ideal for any shot; from practically any lie from 100 yards and in depending on your swing speed. It performs beautifully off the fairway, from the rough, or from the bunker.
ABOUT:
Blade Runner Golf, Inc. is a company devoted to the notion that a golfer's short game can make all the difference in his or her final score—but you can take your short game to the next level only if you have the right equipment. Black Magic's hybrid wedges Conform to USGA rules, but also helps golf enthusiasts find new precision and power as they make their way onto the putting green and they can be accessed on the web at: http://www.blackmagicwedge.com.
Contact:
Black Magic Wedge
10850 Dover Street
Suite 500
Westminster, CO 80021
Toll Free 877-799-6099