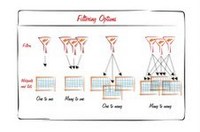 we are very excited about the product and we are keen to see what the SharePoint community make of it.
(PRWEB) October 14, 2010
Pentalogic Technology have today announced the release of the beta version of their new FilterPoint webpart for use with Microsoft SharePoint.
"We have been working on FilterPoint for the past few months now" explained Pentalogic founder and CTO Ryan Wheeler, "we are very excited about the product and we are keen to see what the SharePoint community make of it."
"The use of Filters and webpart connections brings a whole new dimension to SharePoint, enhancing users' ability to build their own rich applications, without the need to call in the developers." Says Wheeler "So we had always seen a Filter webpart as a good potential addition to our current range of products."
"But we didn't want to reinvent the wheel. Before we started on development we needed to know that we could add something useful to what is already available in the SharePoint market place. When we looked at the market we found some good products out there. But we did feel that there were some issues around complexity of user interface in some. Others, other offering an easy user interface, lacked the ability to apply multiple filters to a page with a mix of multiple web parts and lists. We knew this multiple filtering capacity was particularly important to organizations who use dashboards."
"So these were the two main challenges we set ourselves" Ryan explains, "to create a webpart with multiple filtering capabilities and a really friendly user interface - we hope we have succeeded."
"This is obviously a 'first draft' of the software. We have a list as long as your arm of additional features that we plan to add at a later stage. First we wanted to get some user feedback: find out what people were finding most useful and what additional features are priorities for our customers. This is one of the things we are hoping to achieve in the beta testing phase."
FilterPoint is the latest addition to Pentalogic's range of webparts for Microsoft SharePoint. The current range includes planning, alert and list summary webparts.
FilterPoint is available as a 60 day free trial, in the beta version from today and anyone interested in trying the product and offering feedback should visit the Pentalogic Website.
"We expect to be issuing the first public release version of FilterPoint by the end of the year at latest. Users interested in a Priority free trial and 25% discount on the purchase price can register on our website."
Pentalogic Technology is a privately owned and managed company based in Cheltenham England. Pentalogic build webparts for use with Microsoft SharePoint. Pentalogic's products are designed to enable SharePoint users to build rich applications in SharePoint, without the need for assistance from developers.
Founded in 2005 Pentalogic are one of the longest established companies in their marketplace. Pentalogic's developers have worked with SharePoint since its very earliest days.
Pentalogic's simple but powerful SharePoint tools are used by organizations around the world to enhance the functionality of SharePoint.
###