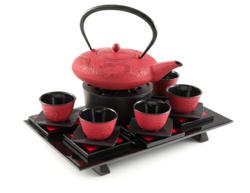 Known for procuring the world's finest tea, Teavana's new tea upholds that tradition.
Atlanta, GA (PRWEB) October 17, 2011
Teavana, known for procuring the world's finest loose leaf tea, launches new tea and tea-ware selections today. Based on the French proverb 'It is impossible to overdo luxury' this collection celebrates the affordable luxury of enjoying premium loose leaf tea. Filled with global good taste, each sip is inspired by fine living, exotic journeys & epicurean delights.
The 2011 'New Taste of Luxury' collection includes a coordinated combination of new 14 loose leaf teas and gifts to enjoy, whether giving or receiving, just in time for the holiday season. Here are a few favorites:
Açaí Matétini $8.00/2oz Maté Tea
The newest craze in cocktails inspired the infusion of real fruit, herbs and flowers with maté tea. Our mock martini is a classy notch up, first blending 'superfruits' blueberry, raspberry and blackberry. Added to that are crisp granny smith apples & sweet pineapple, brightened with the zesty citrus notes of orange, lemongrass and hibiscus. Cheers!
Thai Mountain Oolong $22.00/2oz Oolong Tea
Cultivated at a heavenly 3,900 feet in one of the highest elevation tea gardens in Thailand, this majestic harvest breathes mountain-fresh floral notes of orchid, lily and wildflowers into our prized oolong to create the distinctive creamy-smooth flavor. Hand-picked and rolled with delicate precision, these high-grade tea leaves, raised in fog and clouds, elevate this mountain mix to soaring heights.
Golden Mojito $15.00/2oz Flavored White Tea
Capturing the taste of the newest trend in cocktails is this delicious journey southward. Conjure up sun, fun and frolic with a sweet and sour citrus blend of three types of pineapple, sweet orange and 'superfruit' tangy sea buckthorn. Mix in a refreshing hint of mint and pure white silvery tipped leaves and you've got a sweet, smooth Latino treat.
Opus Rouge $8.00/2oz Rooibos
Inspired by the world's best rich red wines, this most luxurious green rooibos blend is a symphony of sweet and fruity. The blush of red grapes, blackberry, cranberry and black currant blend beautifully, creating a scarlet red hue. Creamy Madagascar vanilla, sweet orange and hibiscus flowers finish off heady, rich flights of fancy.
French Spice Quartet $14.00/2oz Flavored Oolong Tea
Enjoy a private concert of flavors as lively spices harmonize in a symphony of flavor. This oolong and pu-erh tea blend is created from the famed Quatre Espies of France with a Teavana twist. Piquant notes sing of cloves, nutmeg, ginger and sweet cinnamon while black peppercorn, Madagascar vanilla and peppermint warm and awaken your palate for a refreshing crescendo.
Citrus Lavender Sage $10.00/2oz Herbal Infusion
An herbal blend fit for royalty, this sublime bouquet of fruit and floral is a healthy pick me up for any time of the day. Citrusy orange, sweet pineapple and red delicious apples complement and soften to a smooth perfection with luscious lavender, sage and 'superfruit' sea buckthorn.
Contour 16oz Tea Tumblers $32.95 (3 Colors Available)
Enjoy tea wherever you roam! Stainless steel double walled tea tumbler features a loose leaf tea strainer which sits deeply into the tumbler for ease of brewing. Patented no-spill 360 degree pushbutton lid allows for ease of transport to home, work or after-school activities.
Breville One-Touch Tea Maker $249.99 50oz / 1.5L Stainless Steel with Glass Kettle
Breville is known for ingenuity and design; this electric tea maker is no exception. It heats water to the correct temperature for tea, lowers the tea basket automatically into the water, and, at the correct time, auto-lifts the basket, straining the tea leaves to prevent oversteeping. The auto-warming function keeps tea warm for up to 60 minutes.
Opening the Doors Tea Collection $69.95
Experience Teavana's favorite four tea blends in a beautiful gift box, ready to give.
Contains:
4 2oz / 56g pouches of Teavana's tea blends
1 12oz / 340g pouch of German Rock Sugar
4 Airtight & light-tight Teavana tea tins
IntoTeas Tea Collection $89.95
Savor Teavana's tea during every moment of the day.
Contains:
4 2oz / 56g pouches of Teavana's tea
2 Teavana logo tea tumblers with infuser
4 Airtight & light-tight tea tins
Create your own Imperial Dragon Cast Iron Tea Set (other colors & styles available)
Imperial Dragon cast iron teapot 40oz (1.2L) $169.99
Large warmer $39.95
Imperial Dragon tea cup $12.99 (5 shown)
Black Yoho coaster $12.99 (5 shown)
Red Lacquer coaster set $29.95
Black standing tray $69.95
White Orchid Teapot Set $129.95 32oz / 946 ml (with 4 cups & saucers)
Fine porcelain with hand-crafted 3-dimensional orchid flower detail.
Discover the new collection, designed to excite & inspire. Visit any Teavana store or http://www.teavana.com to experience all the new teas and tea wares.
Atlanta-based Teavana first opened in 1997 with the name meaning 'Heaven of Tea'. The specialty stores are part retail shop and part tea emporium with over 100 different selections of loose-leaf tea from all over the world. The company donates 1 percent of tea profits to CARE® (http://www.care.org), which goes to improve the lives of those who live in tea-producing areas of the world through education, access to safe water and greater economic opportunities. Teavana currently has over 180 store locations in North America.
###