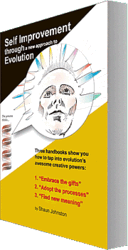 Once upon a time we discovered we evolved. End of story? No. We've still a lot to learn about ourselves from knowing we evolved.
ROSENDALE, NY (PRWEB) June 17, 2012
"We've discovered very little about ourselves from two centuries' scientific study of evolution," said Shaun Johnston, publisher of Evolved Self Publishing and the evolvedself.com website. "Evolution may be entirely unlike anything else we've ever encountered. Because it involves the natural world it seems to belong to the sciences rather than to the humanities. But it's also about what happened over four billion years as living creatures appeared and disappeared, so it's like a history. And it's about processes capable of generating creatures like us with properties like conscious experience that science doesn't apply to. Put those together and I think it's likely we've simply lacked the necessary concepts and methods for making sense out of being evolved"
Instead Johnston is taking what we know about ourselves and about evolution and turning it into a story using the methods of the humanities. For a main character he's given the genome intelligence, creativity and consciousness like ours. He draws on the fossil record and nature to give the genome a life story and a personality. Although he's ignoring what today's physics says is possible and impossible he aims to maintain a storytelling logic so the story remains logically consistent. Such a narrative has the potential to help us ask new questions, Johnston believes, even come up with new answers.
Unlike today's evolutionary theory which is purely physical Johnston's theory of evolution is dualist; it involves both matter and mind. "If we want to know what something means, that involves mind, and we have to include mind in our theories. If our theories don't involve mind, as modern evolutionary theory doesn't, they can't tell us what we most want to know: how can we enhance our conscious experience from knowing we're evolved."
Johnston is building his story online, at http://www.evolvedself.com under the title "The Evolved Self Project," in the form of a book. As he adds new chapters they appear in the table of contents, as people give him new ideas he can build them straight into his story. "I expect to be telling this story for the rest of my life," he says. "As we gain insight into the process of evolution I can use it to refine the story. As the story matures, we can draw on how we figure in the story for our own meaning."
Johnston studied biochemistry at University College London, has been a medical and science writer, and has written two novels. He welcomes contributions and suggestions at shaun(at)evolvedself.com and comments on his articles at http://www.evolvedself.com/project.