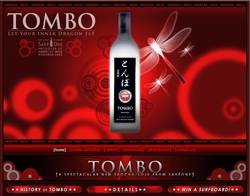 Once we identified the Shochu source we dug deep into Japanese mythology and history and through our search a friend recommended TOMBO, dragonfly. It's a powerful symbol, one that reflects the product inside the bottle. Elegant yet intense and beautiful
Forest Grove, OR (PRWEB) June 10, 2008
Steeped in Japanese tradition, TOMBO Shochu enters the U.S. Spirits Industry with the guidance of American saké brewer and importer SakéOne.
TOMBO Shochu is a Barley based, distilled premium beverage crafted by a Japanese family who opened a new distillation facility in Vietnam. Currently they sell shochu throughout Japan.
"We spent two years seeking a shochu that met our expectations of premium quality, layers of distinct flavors and affordability before making a decision to enter the Spirits market. TOMBO presented the ideal entry point," noted SakéOne President and CEO, Steve Boone. "It has a wonderfully distinct aroma that is akin to sake with hints of mango, kiwi and spice. And while it is imminently mixable, its layered flavors of rice, tropical fruits, steel and green olive are incredible on their own," added Boone. "Think vodka only more dynamic, more flavorful. Kind of a Scotch drinker's clear spirit. Wonderful."
The TOMBO website (tomboshochu.com) presents background information on the shochu along with a collection of offerings from TOMBO's friends. Cocktail recipes submitted by one of the nation's leading mixologists, Lucy Brennan, plus recipes from leading saké sommelier Chris Johnson of NYC. And for a little sumer fun, Oregon surfboard shaper Rob Russo presents an 8 ft. custom TOMBO surfboard.
One of the hottest partners in the site is The Slants, a fast rising Portland, Oregon based rock/pop band who has dubbed their style Chinatown rock. Their song "Sakura Sakura" creates a dynamic internet experience.
TOMBO began shipping June 9th nationally and is expected to retail at $15.00 with some fluctuation based on shipping and tax expenses across the country.
TOMBO is a U.S. brand, a joint effort between SakéOne and the distillery. "We decided to start from the ground up and introduce America to a premium shochu at a very reasonable price. Something distinct, affordable and exceptional in quality," noted Dewey Weddington, SakéOne Vice President of Marketing. "Once we identified the Shochu source we dug deep into Japanese mythology and history and through our search a friend recommended TOMBO, dragonfly. It's a powerful symbol, one that reflects the product inside the bottle. Elegant yet intense and beautiful," added Weddington. "Historically dragonflies are symbols of strength and power once used to adorn the armor of the mighty Samurai. Farther back in history we found that the islands of Japan were known as the Dragonfly Islands. And, for rice farmers they are a symbol of clean water and a good harvest. Ideal foundation for the TOMBO brand," noted Weddington.
SakéOne is the leading brewer and importer of premium saké in America with distribution throughout the U.S. and the Americas. SakéOne crafts saké under the Momokawa (traditional styles), Moonstone (fruit infused), G (cask strength), Peaceful River (for restaurants only) brands, and imports saké from Momokawa Brewing Japan under the Murai Family label.
TOMBO COCKTAIL RECIPES
These recipes are custom crafted specialty cocktails by Lucy Brennan, owner of Mint/820 in Portland Oregon (Playboy and Food & Wine top 10 mixologists and author of Hip Sips - Chronicle publishing), and Chris Johnson, partner of Bao 111 in NYC and leading international saké expert.
Samurai Bandito
By Lucy Brennan, Mint/820 Portland Oregon
2oz TOMBO
1/2oz Hornitos tequila
1oz Lemon Lime Juice
1oz Simple Syrup
1oz Grapefruit Juice
-Shake and serve up with kosher salt on half of the rim, garnish with a lime wedge
Dancing Dragonfly
By Lucy Brennan, Mint/820 Portland Oregon
2oz TOMBO
1/4oz Banana Rum
1/4oz Vanilla Rum
1oz Simple Syrup
1/4oz Chateau Monet
-Shake and served up in a sugared rim martini glass. garnish with a edible flower.
Dragon Blossom
By Chris Johnson, Bao 111, NYC
2 oz Tombo
4 fresh black cherries
one quarter Lime
-Cherry syrup(reduce 10 cherries pitted with half cup water half cup sugar)
You can substitute black cherry soda for the syrup and the sprite
1 1/2 oz sprtie to finish. serve in a collins glass.
Garnish with fresh cherry and lime twist.(cherry blossom if available)
Dragonfly Dreams
By Chris Johnson, Bao 111, NYC
2 parts Tombo
3 parts fresh coconut water
Rim glass with coconut shavings
serve up.
###