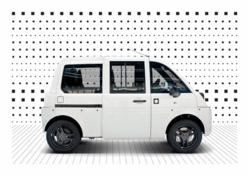 Unbelievably AutoeBid now has over 7,000 new vans available to order on its web site in December 2012.
(PRWEB UK) 7 December 2012
There are so many variations of a new van in the market it can be a very difficult process to decide on the best new van to purchase. On the web site simply click the check box next to any new van or simply selecting any 2 vans using our van comparison tool.
In order to get the best possible new van deal, we get hundreds of the most competitive van suppliers to compete to win your order.
New Vans added to AutoeBid in December 2012:
New 2013 Mercedes VITO COMPACT Effect range now ready to order
New 2013 MIA U ELECTRIC Van range now ready to order
AutoeBid Top 10 predicted best selling new vans for 2013:
New FORD RANGER Deals
New FORD TRANSIT CONNECT Deals
New MERCEDES-BENZ SPRINTER Deals
New MERCEDES-BENZ VITO Deals
New NISSAN NAVARA Deals
New TOYOTA HILUX Deals
New VAUXHALL VIVARO Deals
New VOLKSWAGEN AMAROK Deals
New VOLKSWAGEN TRANSPORTER Deals
New CITROEN RELAY Deals
Top 5 recent New Van customer feedback on New Vans purchased through AutoeBid:
New Van Feedback
FORD TRANSIT 280 MWB DIESEL FWD Low Roof Van Limited TDCi 125ps
Service rating : Cannot fault. Paid fee got very good price and got a new van.
Car : Good at it gets in a Transit.
NISSAN NV200 DIESEL 1.5 dCi 110 N-Tec Van
Service rating : Excellent service from AutoeBid and i will use again in the future.
Car : Very pleased both inside and out, performs very well but good do with larger wheels.
NISSAN NAVARA DIESEL Double Cab Pick Up Outlaw 3.0dCi V6 231 4WD Auto
Service rating : Received an excellent quote through Autoebid which was delivered by uk Nissan dealer with full Nissan warranty.
Car : The 3.0ltr v6 diesel is a huge improvement on the 2.5ltr-a poor mans discovery!!
NISSAN NAVARA DIESEL D:Cab Pick Up Tekna [Connect] 2.5dCi 190 4WD
Service rating : I was a little nervous at first about buying over the internet, but i read many reviews and thought go for it, it is well worth it, so much choice and even better the money you save!
Car : A little disappointed with the interior compared to the 06 model i had, center console is a bit tacky and over complicated with too many buttons, there is no sun roof as standard on the top of the range model but overall still a nice vehicle.
MERCEDES-BENZ VIANO DIESEL ESTATE SPECIAL EDITION 3.0 CDI Avantgarde Edition 125 [Long] 5d Tip Auto
Service rating : Easy to use and I liked the fact you only pay the fee if the price is achieved, mine was and I purchased from a maid dealer. Will always recommend the service and use it again.
Car : Great car if you have a big family, the V6 3.0 D is a smooth drive, loads of space too.
View all AutoeBid's New Van Deals