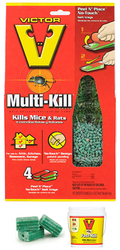 Lititz, PA (Vocus) August 29, 2009
Victor®, leading manufacturer of rodent control products, introduces Victor® Fast-Kill® brand rodenticides and Victor® Multi-Kill® brand rodenticides. Issued from research and development by the world's rodent experts, the Victor® rodenticides are made with fresh bakery-grade ingredient to maximize consumption by rodents.
Fast-Kill® Brand Rodenticides contain the fastest acting ingredients on the market to control the toughest rodent populations in 1-2 days and in some cases in only a couple hours. Its active ingredient - Bromethalin, also greatly reduces the risk of secondary poisoning.
Multi-Kill® Brand Rodenticides contains Difenacoum - the first new EPA-approved active in over 10 years. The Multi-Kill® Brand formula is as fast as competition and yet over 100 times less toxic to dogs than the leading brand! Ideally for pet owners.
For more information, please visit:
Victor® Rodent Control Web Site
Shop Victor® Fast-Kill® & Multi-Kill® Rodenticides
All You Need To Know About Mouse & Rat Poison
Victor® is a registered trade mark of Woodstream Corp.
About Victor®:
Victor® is recognized as a world leader in the rodent control category and has been a trusted brand name since 1890. Victor® revolutionized the rodent control market 100 years ago with the invention of the spring-based Victor® Mouse Trap. Today, we continuously strive to manufacture innovative, quality products that keep your family safe from the dangers rodents pose.
About Woodstream Corp:
Woodstream Corporation is a long-standing, privately held company and a leading manufacturer and marketer of quality-branded wild bird feeders, rodent control products, caring control products for pets and wildlife, decorative garden accents & natural solutions for lawn and gardens.
###