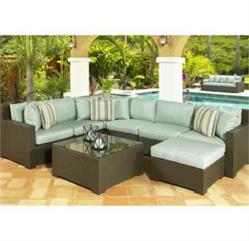 Free Shipping on All Orders!
Chicago, IL (PRWEB) January 01, 2012
FurnitureForPatio.com is bringing in the New Year with a sale that offers free shipping on all patio furniture. For one week only customer's can save big with free shipping with any purchase. The beginning of a new year is a great time to buy patio furniture because manufacturers are releasing new collections and factories are in the off season. Since the order volume is low, factories are able produce custom ordered furniture in 2-3 weeks. During peak ordering season's custom patio furniture is usually delivered in 4-6 weeks. The quick turnaround times are an advantage to ordering early in the year, rather than waiting for the spring rush. FurnitureForPatio.com is excited to introduce new furniture and offer customer's free shipping on all orders. The New Year Free Shipping Sale is available from January 1, 2012 until January 8, 2012.
FurnitureForPatio.com is constantly adding to their great collection of patio furniture and outdoor decorations for the home. Shopping and buying patio furniture has never been easier for customers at FurnitureForPatio.com. Today, patio furniture manufactures are offering their products with a variety of different personalization options. When shopping for patio furniture at FurnitureForPatio.com, customers can view and order from a variety of different frame and fabric options. For example, the Telescope Casual Momentum collection is available in 10 different powder coat frame options and 70+ different fabric options for the deep seating cushions.
Patio sectionals were a popular item for the 2011 season and will continue to into the 2012 season. Patio sectionals are now available in variety of different materials and styles. Wicker patio sectionals are a great option when choosing an outdoor sofa. Today's outdoor wicker furniture is constructed with a resin material that is resistant to cracking, fading, and burring. Curved or crescent sectionals are a popular new piece of furniture that people are using for an outdoor living area. The deep seating cushions and contour of the sofa make them a great solution for outdoor seating around the fire pit. FurnitureForPatio.com offers one of the largest collections of patio sectionals that are available with free shipping during the New Year Sale.
Outdoor club chairs are another trend that manufacturers are targeting for the 2012 season. New 2012, outdoor club chairs compete with the quality and comfort of interior club chairs. Outdoor club chairs are great for creating a comfortable lounge area on any patio. The oversized frames and deep seating cushions allow for ultimate comfort while relaxing in a summer breeze. Custom ordered outdoor grade designer fabrics allow for customers to personalize the club chair, so that it can match the exterior décor of their home. Adding an ottoman to a club chair is a great idea to enhance the comfort and style of the chair. FurnitureForPatio.com offers club chairs available with wicker, resin, and cast frames.
FurnitureForPatio.com is a one stop shop for decorating the patio of your home. Customers can shop from patio sets, chairs, tables, sectionals, sofas, barstools, umbrellas and other outdoor decorations. The New Year Patio Furniture Sale allows consumers to save on popular outdoor furniture from brands like Lloyd Flanders, Telescope Casual, Polywood, North Cape, and Caluco. FurnitureForPatio.com is quickly becoming one of the most popular stores to buy patio furniture and outdoor decorations for your home. The store features an expansive collection of patio furniture that can be purchased online and delivered to anywhere in the USA.
###