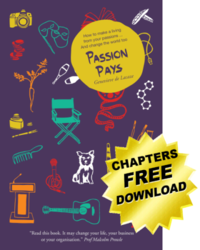 "I found myself stumbling over the same block:" writes Genevieve. "Mary's 'But'."
London, England (PRWEB) December 31, 2012
When the New Year comes, people seem to ask themselves some deep questions, and with these questions often comes their deep desire to change their work to change their life.
With the release of her book 'Passion Pays: How to make a living from your passions… and change the world too', humanitarian, jobs and career coach, Genevieve de Lacaze, warns "if you want a new job, New Year resolutions won't change anything. Only commitment does, and at any time of the year."
In Passion Pays, Genevieve recounts the story of one client with an extremely strong desire for a job or career change. "I found myself stumbling over the same block:" writes Genevieve. "Mary's 'But'." This is why the chapter 'Starting the Transition: The future is Bright' contains a particular word of caution that people keen on New Years resolutions will be glad to hear: "unless you are ready to change and to think differently, your desire for change will be vain." To view a short trailer, look inside the book or download a free book sample, go to http://passionpaysbook.com.
"Laced with anecdotes and examples Genevieve weaves a literary journey through the twists and turns of the paths of personal development. She illuminates the journey with the personal stories and wisdom of those who have faced, changed and achieved in their chosen fields." -Geoff Hinsley, facilitator
When it comes to jobs and careers, we dream not only of making money but also of being happy. Passion Pays helps achieving both. Passionately argued, superbly researched, and filled with real-life exemplars stories, Passion Pays will permanently change how you see the world of work - and how you see yourself in it. With inspiration from 30 ordinary men and women featured in the book, readers will be able to approach any job or career change with serenity and anticipation, rather than anger and regret. In Passion Pays, Job Search takes a whole new meaning, whether looking for part-time jobs, jobs online, working from home or starting a business. This type of empowerment is crucially missing from the career advice in schools, universities or job centers.
Take a few minutes to view the book trailer, the contents or read an excerpt for yourself on the book website at http://passionpaysbook.com. 'Passion Pays: How to make a living from your passions… and change the world too' is available now from major booksellers such as Amazon or Barnes & Noble. You may also listen to the GenieCoach as she hosts the Get Passionate radio show at getpassionateradio.com
About Genevieve de Lacaze
Genevieve de Lacaze is a job and career change expert and a humanitarian who loves creating passionate conversations and ventures to uplift people in their life and career choices. She writes articles, delivers presentations and workshops on many empowering subjects in Europe, USA and Central America. She hosts the Get Passionate Radio Show.
She is the Official Expert Guide on Career Development at Selfgrowth.com, #1 self-improvement website, and the Intl Head of Continuous Professional Development at the International Institute of Coaching (IIC). She is also passionate about tennis and coaches the game part-time.
But really. just an ordinary girl. changing the world. one passion at a time.