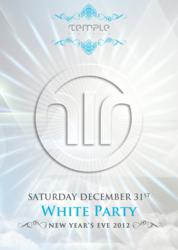 This year we've made Temple of Light our first White Party, so that guests become part of the canvas in which the visuals are projected.
San Francisco, CA (PRWEB) December 24, 2011
Temple Nightclub San Francisco, located at Zen Compound on Howard between 1st and 2nd Streets in SOMA, has cooked up their biggest "Temple of Light" New Year's Eve party ever. This time guests' will find themselves immersed in a Winter Wonderland like no other, with lasers and 3D visual displays stimulating the senses throughout the San Francisco dance club. VIP and Zen Compound's Ki Sushi dinner packages are available.
"We throw San Francisco's best dance club New Year's Eve party every year, adopting the theme 'Temple of Light,' which combines luminous sound with fantastic 3D visuals and lasers," said Josh Webber, Marketing and New Media Coordinator at Temple Nightclub and Ki Sushi. "This year we've made it our first White Party, so that guests become part of the canvas in which the visuals are projected."
The forecast for Temple of Light: NYE White Party calls for an electro-blizzard of radiant sound that will blanket Temple's three main rooms, cryogenic fog to keep dancers cool, and mind-melting, multicolor laser and 3D light shows.
Musical acts include:
AMIN ROOM
Suns of Temple
Paul Hemming (TMG)
Jaswho? (Live!)
Xavier
Ben Tom (TMG, SSM)
Soulspin (TMG)
iQ! (TMG)
David Issac
DESTINY LOUNGE
Manics
More TBA
CATACOMBS
Tone
A2D
Von
Doors open at 9 pm on New Year's Eve—Saturday, December 31, 2011—and close at 4 am New Year's Day. Limited discounted pre-sale tickets are going fast, so book now through Eventbrite (http://templewhiteparty.eventbrite.com/). Five-course, Prix fixe Ki Sushi dinner packages are also available through Eventbrite.
To purchase VIP packages, which include table service, five complimentary passes, and a complimentary bottle of Champagne, call (415) 529-4303 X317 or send a note to nina(at)templesf(dot)com.
The prix fixe Ki Sushi dinner package menu follows.
FIRST COURSE
Mushroom miso soup
Manila clam miso soup
SECOND COURSE
Braised Kurobuta pork belly with daikon radish
Soba noodle salad
THIRD COURSE
Lobster and shrimp tempura
Soy braised tofu with trio of mushrooms
FOURTH COURSE
Filet mignon with soy butter sauce
Vegetarian sushi platter
(green dragon roll and assorted vegetable nigiri)
DESSERT
Almond milk pannacotta with candied yuzu peel
For more information about Temple of Light: NYE White Party, private event space, or anything else, call (415) 529-4303 or go to templesf.com.
About the Zen Compound
The Zen Compound is an entertainment complex housing Temple Nightclub, Ki Sushi, TMG Recording Studios, Temple TV and ZCFM Radio, all with a sustainable focus.
Temple Nightclub is one of the most popular San Francisco dance clubs. The San Francisco event space is a true architectural gem. Filled with original unique antiquities from Southeast Asia, Temple offers 20,000 square feet of space, which can accommodate 1,100 guests on two levels. Its four beautiful rooms, each with its own unique atmosphere, can be booked separately or in combinations.
Because it is surrounded by some of the city's finest hotels and is just two blocks from Moscone Center, Temple is one of the most convenient San Francisco event locations for wedding receptions, benefits, fashion shows, product launches and corporate functions.
The sales staff can assist with full event production and party planning—from small intimate dinners to luxurious larger-than-life gala events. Food service can be arranged from local restaurants and caterers or from Temple's in-house sushi restaurant, Ki.
Ki is the premier San Francisco sustainable sushi restaurant and izakaya bar, and executive chef Isamu Kanai is the creative force behind the success of the restaurant. Isamu's wealth of knowledge and expertise, along with his creative approach to fusion and fine dining, ensures each client is satisfied with every event.
# # #