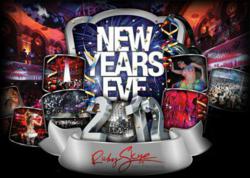 Guests of Ruby Skye will be showered with thousands of balloons and shiny confetti at the stroke of midnight.
San Francisco, CA (PRWEB) December 10, 2011
Once again, San Francisco dance club Ruby Skye is ringing in the new year in dramatic and sensory-stimulating style. The San Francisco New Year's Eve party will feature breathtaking aerial acrobatics and dancing to the cutting-edge sounds of young, French-born DJ Cedric Gervais during the party and DJ Dan after hours.
At the stroke of midnight, the club will become a sea of festivity as a tidal wave of balloons and streamers fired from canons washes over guests as they enjoy complimentary party favors and a champagne or Red Bull toast. Complimentary coffee will be served after midnight.
"Guests of Ruby Skye will be showered with thousands of balloons and shiny confetti at the stroke of midnight," said George Karpaty of Ruby Skye. "It will be a night people will remember for the rest of their lives."
A decadent array of culinary treats will keep energy levels high for dance floor destroyers. The reception-style dinner will be served December 31, 2011 from 8 to 11 pm. The menu, designed by Executive Chef Eric Treis, includes sesame chicken satays with spicy peanut dipping sauce, applewood-smoked bacon, gruyere and sautéed leek tarts, classic saffron-scented Mediterranean paella, herb-encrusted filet mignon with port wine and mustard sauce, artisan sourdough rolls, rum raisin truffles, apple cobbler and chocolate cheesecake truffle bars. Visit http://www.clubzone.com/events/453228/san-francisco/ruby-skye/nye-2012 for the full menu.
Limited advance ticket sales for the entire evening start at $75. Event tickets after 12:30 am start at $40. New Year's Eve ticket prices often go up significantly as New Year's Eve approaches, and this event may sell out well in advance of New Years Eve. For more information about Ruby Skye's New Year's Eve Party visit their website at http://www.RubySkye.com.
About Ruby Skye Nightclub San Francisco
Ruby Skye, the premier San Francisco nightclub, is one of the most-visited Bay Area clubs and host to both local and international DJ's who enjoy performing in San Francisco. The 15,000 square-foot historic building housing the club (est. 1890) offers four distinctively different, luxurious areas for entertaining that can be combined to accommodate up to 900 guests. It also features "The Jungle Room," an elegant and private lounge where guests can enjoy fine cognac in Old World elegance.
About DJ Cedric Gervais
For years, DJ Cedric Gervais has captivated clubbers and partygoers as he reigns supreme over the Miami dance scene. Although originally born in Marseilles, Cedric Gervais chose Miami as his adopted home, and the city has happily embraced him.
Gervais held residencies at Crobar (now Cameo) and the world-famous Nikki Beach before taking over the Space Terrace, where thousands began lining up to witness him devastate the after-hours scene. Despite being in such heavy demand, he made time to take his talents into the studio. His first single with Ultra Records, "Burning," was a great success on both the charts and the underground circuit. Soon after, he unleashed his debut album, "The Experiment," which featured the massive hit "Spirit in My Life."
The album took him to a different level, and he spent the next couple of years touring the world, to the delight of his many fans. Whilst maintaining a hectic tour schedule—which has included producing with talents like Lenny Kravitz, Deep Dish, Steve Lawler and Rachel Star—Cedric has managed to both continue his residency at Space and spend plenty of time in the production room.
About DJ Dan
DJ Dan began spinning during LA's early-'90s rave scene before becoming the main DJ for San Francisco's aptly named Funky Techno Tribe. Along with headlining raves in the US and overseas, DJ Dan has remixed popular dance artists such as Cirrus and released albums and singles on labels such as Ultimatum, Kinetic and Moonshine, including 1998's Beats 4 Freaks, 1999's Funk The System and 2000's Put That Record Back On.
Dan released his first mix CD, Loose Caboose. After building his DJ career locally, Dan began building his production career. The production aspect took off when he did a remix for Orgy's cover of "Blue Monday." In 1998, he released the mix CD Beats 4 Freaks on Moonshine. Dan put himself on the club hit map with the releases of "That Zipper Track" and "Needle Damage" in 1999.
The tracks exploded onto the club circuit and were further impacted with the release of remixes by Terry Mullan and the mix CD Funk the System. The popularity of the releases earned him a slot on a worldwide tour with fellow label artist Carl Cox, and led to his producing remixes for other Moonshine artists like Cirrus. The album Another Late Night and the single "Put That Record Back On" followed in 2000, speeding along Dan's career.
# # #