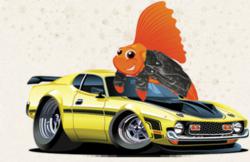 A lot of people see the start of a New Year as a clean slate, and decide to start of on the right financial foot.
New York, NY (PRWEB) December 24, 2012
RoadFish.com men's lifestyle and finance magazine today released their support of Fox Business's recent guide to financial New Year's resolutions, and weighed in with their own tips and suggestions.
Fox Business' Donna Fuscaldo recently reported that according to money experts, consumers who hope to make a resolution that they will actually stick to need to make the goal both actionable and realistic. She states that one of the best first steps a consumer can take in terms of getting their finances in order is to do a personal finance assessment. The article includes the following advice from certified financial planner Karl Byrd about how to conduct a personal finance assessment: "To take an assessment, list on a piece of paper all you own and call it assets and then all you owe and call it liabilities. The difference between the two numbers is your net worth." A yearly analysis, performed this same way, will help to identify trends such as an increase or decrease in savings, or an increase or decrease in debt, and can help shine a spotlight on what consumers ought to be working on.
RoadFish.com applauds consumers who will choose to set a financial goal for themselves in the New Year, and offers some tips on how to get started. RoadFish.com's Senior staff writer is quoted as saying, "A lot of people see the start of a New Year as a clean slate, and decide to start of on the right financial foot. Meaning, using the credit card less, working at paying down debt, paying bills on time. But in order for financial goals to stick, there has to be structure to keep them in place and keep track of the successes. The best structure that I know of is a personal budget. It doesn't have to be fancy, it can literally be a simple spreadsheet on Excel that you make yourself. All it has to do is track monthly inflow and outflow, and tally the difference. And ideally it should show where your money is being spent, so you have an idea of the areas you need to cut back on and where you can save more. I can almost guarantee that a budget will change the way you look at your personal finances. Tracking things becomes a game, and you can be competitive with yourself from month to month."
Fuscaldo's article goes on to suggest plotting financial goals only after all assets and liabilities have been outlined on paper, so that there is a financial tracker in place—a set starting point. She states that it is important to keep goals realistic, and to schedule evaluations often to see how the budgeting is going. Dan Keady, the Director of financial planning at TIAA-CREF, recommends that consumers pick just one or two financial areas that they would like to improve upon, such as adding to a 401K or building an emergency fund, and focus on just those particular areas for the year. Keady is quoted as saying, "If you pick five personal faults to work on at one time you are trying to apply a lot of effort to a lot of things which is very difficult. Pick one or two things and monitor the month-to-month progress."
RoadFish.com encourages consumers to take advantage of current tools to help them stay on track and achieve financial success with their resolutions. RoadFish.com's Senior staff writer is quoted as saying, "I love financial apps because they put everything in one place—income, bills, where money is being spent, debt, loans, everything. Streamlining all sorts of financial information takes a lot of guesswork out, and I've found can be very helpful for tracking expenses. I would urge consumers to take advantage of apps like Mint.com, Score Planner Slider, Manilla, and freebies like your annual free credit report. Use resources like friends and family to share your goals with and to help encourage and support you in your financial endeavors."
According to StatisticBrain.com, of the top ten goals of 2012, spending less and saving more was the third most popular and money related resolutions comprised 34% of all resolutions made at the beginning of 2012.
About RoadFish.com:
RoadFish.com is an online men's lifestyle and finance magazine that concentrates on motivating already goal-oriented men towards their higher purposes. The popular men's magazine, aimed at male readers ages 30 to 50 years old, features stories about real estate investment, dating advice, and financial counsel. Recent personal finance articles include tutorials about how free credit reports can save money for consumers in the long run. RoadFish.com is owned and operated by Purpose Inc.