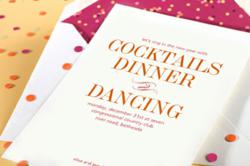 West Kennebunk, ME (PRWEB) November 29, 2012
"There are so many interesting New Year's Eve traditions," notes Lisa Blinn, Vice President of Design and Marketing at William Arthur Fine Stationery. "Here in the U.S., New Year's parties are a time for glamour and elegance. Our customers love our invitations for their rich processes, fine detailing and they want added hints of sparkle for New Year's parties. We've expanded our selection of invitations to meet this demand. While researching the holiday and its traditions, we came upon some interesting findings about its origins and the way New Year's Eve is observed elsewhere."
THE HOLIDAY'S ROMAN ORIGINS: The Romans dedicated New Year's Day to Janus, the god of gates, doors, and beginnings. The month of January owes its name to Janus as well, who had two faces, one looking forward, the other backward.
IN THE U.K. London residents gather along the River Thames to watch fireworks around the giant London Eye carousel, with Big Ben ringing in the new year at midnight. In Scotland, they celebrate Hogmanay, the Scots name for New Year's Eve, with street parties in Edinburgh. Calennig is celebrated in Wales, bringing thousands to the capital, Cardiff.
THE FRENCH pay great attention to the weather on New Year's Eve, which is seen as a harbinger of the new year. Wind blowing east, fruit will yield; blowing west, livestock will flourish; blowing north, poor crop yield; wind blowing south, bon weather all year.
IN THE U.S. the new year is ushered in with parties, toasts, fireworks, resolutions and kisses at midnight. In New York City, tens of thousands crowd into Times Square to watch the dropping of the 11,875-pound, 12-foot-diameter Times Square Ball at 11:59 p.m.
SPANIARDS dress up in festive costumes to roam the brightly lit streets of Madrid and Barcelona. It's traditional to eat twelve grapes on New Year's Eve, one for each month of the coming year, in the hope that each grape—and month—will be sweet, with hopefully no sour grapes in the bunch.
ABOUT WILLIAM ARTHUR
William Arthur stationery, invitations, announcements and holiday cards are renowned worldwide for beautiful designs, substantial paper stock, rich embellishments and exceptional printing.
For more than 60 years, William Arthur's fine stationery products have helped people turn special moments and once-in-a-lifetime occasions into lasting memories. At their home in West Kennebunk, Maine, their craftspeople keep the techniques and traditions of fine paper and printing alive, combining time-honored print methods with state-of-the-art design and technology. Simply put, they are passionate about creating beautiful stationery. That passion is shared with their customers by providing exquisite products and extraordinary service. View their extensive collection at http://www.williamarthur.com. To find an authorized retailer, select the "Find a Dealer" link.