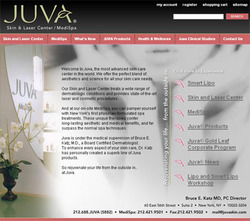 Our goal is to always deliver the most technologically advanced cosmetic care to our patients
New York, NY (PRWEB) October 8, 2008
The cosmetic surgery and laser treatment industry is in the midst of an unprecedented boom, and it's all because the procedures they use are becoming safer, less painful and easier to recover from than ever before. One of the latest laser skin resurfacing devices to receive approval from the Federal Food and Drug Administration is Fraxel re:fine, a revolutionary tool manufactured by laser innovator Reliant Technologies. This device is now generating impressive results at the renowned New York City skin care facility Juva Skin & Laser Center.
The Fraxel re:fine laser system is used to perform a noninvasive skin resurfacing procedure that is designed to effectively improve skin pigmentation, tone, texture and fine lines. It is engineered for fractional delivery, which means that the skin can be treated one small fraction at a time, encouraging faster recovery and less discomfort. At Juva's New York City skin care facility, the system is typically used four to six times on each patient, with treatments occurring at two- to three-week intervals.
The FDA has specifically granted clearance for the device to be used to treat pigmented lesions, melasma and crow's feet, as well as to coagulate soft tissue.
"Our goal is to always deliver the most technologically advanced cosmetic care to our patients," explains Bruce E. Katz, M.D., Director of Juva Skin & Laser Center. "The addition of the Fraxel re:fine system to our laser array is crucial to our ongoing realization of this goal."
The staff of Juva Skin's New York City laser resurfacing facility includes doctors that have pioneered some of the most successful laser and cosmetic treatments available today. Their range of 46 distinct lasers includes devices designed to treat acne, birthmarks, cellulite, spider veins and many other conditions. The facility is open seven days a week, including evenings, to accommodate the increased demand for this new generation of gentle and noninvasive cosmetic treatments.
To learn more about the New York City laser resurfacing specialists and equipment at Juva Skin & Laser Center, please visit juvaskin.com.
About Juva Skin & Laser Center:
Juva Skin & Laser Center is a leading, upscale New York City laser resurfacing facility located in Manhattan. Under the supervision of Board Certified Dermatologist Bruce E. Katz, M.D., Juva maintains the sophisticated laser equipment and New York City skin care specialists needed to treat a comprehensive range of dermatological conditions and offer numerous in-demand cosmetic procedures. In addition to its extensive laser surgery capabilities, Juva offers a complete medical spa and a range of luxurious skin care products designed for home use.
###