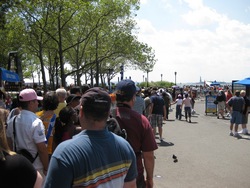 New York, NY (Vocus) September 21, 2010
The old saying goes that the best things are worth the wait, but four hours in the hot sun just to get on the ferry to visit Liberty Island, the site of the Statue of Liberty? Paying homage to Lady Liberty is a time-honored tradition, however on a recent trek to Liberty Island, the staff of New York City vacation package experts at NYCTrip.com spent four hours in the Battery Park ferry line, with the line snaking all throughout Battery Park, as evidenced by the included photos.
Not that NYCTrip.com needed to do this – their Statue of Liberty and Ellis Island tour meets at Midtown Manhattan, where an NYC licensed tour guide escorts tour participants into a subway enroute to Battery Park, and upon arrival to the park, grants the tour priority access to Liberty Island Ferry security, and onboard the ferry.
"We're always looking for ways to better our NYC tours, so we decided to wait in the Battery Park line and see what it's really like. After standing in the sun for a few hours, we knew that including priority access to the ferry in our Statue of Liberty tour added a great deal of value to the tour," explains Barry Tenenbaum, of NYC Trip.com
NYCTrip.com's Statue of Liberty and Ellis Island tour also includes a Monument Access Pass granting guaranteed entry inside the Statue of Liberty – the only way one can actually get inside the Statue. The NYC tour participants can then re-board the ferry and visit Ellis Island at their own pace.
"The Statue of Liberty and Ellis Island are such integral parts of American history, and should be on everyone's bucket list. But who wants to spend hours waiting in line, when NYC has so many other sights to offer? Bypassing the ferry line and having a licensed NYC tour guide on hand to narrate the history really puts your Lady Liberty experience out of the park," says Tenenbaum.
About NYCTrip.com
The New York City vacation package experts at NYCTrip.com have been providing tried and true travel advice since 1983. As the only major independent tour company devoted exclusively to NYC travel, NYCTrip.com prides itself on offering New York City Hotel Packages, Broadway Show Packages, Tours of New York City, NYC Restaurant Deals, and more. Price your ideal NYC vacation package through their easy-to-use NYC TripQuote Wizard.
###