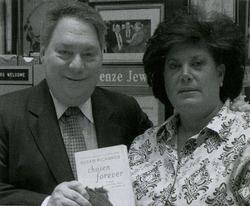 Nobody said I'd need at least seven carats to be happy.
New York, NY (PRWEB) October 26, 2010
Longtime New York City Diamond District jeweler Firenze Jewels, Inc., was cited for its pleasant shopping experience in "Chosen Forever: A Memoir of a Horse, a Book and Finding Love", written by New York Times best-selling author Susan Richards. The sequel to "Chosen by a Horse", Richards tells a story of how your life can change completely in one moment and how you learn to accept that you deserve to be happy. In the book she recounts her experience at Firenze Jewels when she and her fiance were shopping for a wedding ring.
"That's how we found Firenze Jewels," Richards says in her book, describing her journey in the New York Diamond District. "Nobody said I'd need at least seven carats to be happy.", she added. In this excerpt, Susan describes her shopping experience with owner Jeffrey Levin and G.I.A. gemologist Kerri Lavine as she freely looked over the jewelry showcase to study the row of fine diamond engagement rings:
""That one", I said, pointing to a gold ring with an oval-shaped yellow solitaire.
"It's a citrine", said the store owner, taking it out of the case and handing it to me.
"I like it", said Dennis when I slipped it on and held up my hand.
"Me too", I said.
"Me too," said the owner.
And that's how we found my wedding ring."(Richards, page 270)
Owner of Firenze Jewels, Jeffrey Levin received a copy of the book. "It was a nice surprise," he said.
About Firenze Jewels
Firenze Jewels features world class fine designer jewelry, and a vast selection of certified diamonds, wedding bands, and diamond engagement rings. Jewelers since 1937, they are located in the heart of the Manhattan Diamond District. Their hand-crafted fine jewelry pieces and loose diamonds are available through the convenience of online shopping at http://www.firenzejewels.com at prices significantly below retail. Its staff, which includes talented designers as well as a graduate gemologist from the renowned GIA (Gemological Institute of America), collectively brings decades of knowledge and expertise to ensure every shopping experience is a positive one.
# # #