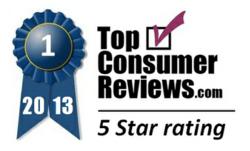 TopConsumerReviews.com provides independent reviews for thousands of products including home security systems to help consumers make well informed decisions.
New York, NY (PRWEB) January 30, 2013
TopConsumerReviews.com recently announced the best home security companies in New York for 2013. TopConsumerReviews.com provides independent reviews for thousands of products including home security systems to help consumers make well informed decisions.
New York State has seen an overall decrease in violent crimes in the past few years. However, the chance of becoming a victim of a violent crime in New York is still 1 in 255 people. At nearly 400,000 cases of burglary and thefts each year, the risk of a break-in is sobering to New York residents. Safeguarding a home is important for the protection of families and their valuables. Strategically placed exterior lighting, quality built dead bolts and a home security system are essential tools in protecting one's home. Finding an affordable and effective home security system doesn't have to be stressful. TopConsumerReviews.com has done the work for you.
An analysis performed by TopConsumerReviews.com team, found that across several home security system companies those that provided the latest technology, affordable pricing and 24 hour monitoring service ranked the highest in customer satisfaction. Wireless systems, with minimal installation, especially for apartment dwellers and renters, were identified as the most flexible. In addition, many consumers reported a positive reaction to home security systems with remote access technology - leading the way for frequent travelers to set the alarm and observe interior or exterior video from anywhere in the world.
TopConsumerReviews.com also identified that, for most consumers, a one size fits all approach to home security systems was not the most customer friendly. Choosing a reliable home security company that offered flexible system customization and different package options would better meet the security needs of each homeowner. Customers also reported free installation and product guarantees as a plus in choosing the best home security system.
FrontPoint Security delivers top quality home security equipment while letting their customers save in installation costs. Their all cellular product line, remote access options, and easy installation process are top features that customers are looking for. FrontPoint Systems is a great option for home security needs in New York.
Protect America offers a number of affordable home security packages that provide the latest in technology and reliable 24 hour monitoring. Their self-installation process and low entry cost places Protect America in the class of top home security companies for New York.
ADT, a traditional name in home security, provides dependable home security systems that are designed to meet the needs of just about anyone. Consumers should expect to pay a little more at ADT, but their standard package is priced well. Many customers appreciate the long standing history that ADT brings to New York.
To find out more about home security systems, including reviews and comparison rankings, please visit the Home Security Systems category of TopConsumerReviews.com at http://www.topconsumerreviews.com/home-security/.
About TopConsumerReviews.com
TopConsumerReviews.com, LLC is a leading provider of independent reviews and rankings for thousands of consumer products and services. They offer the latest on Home Security including information, education, and ratings for the best home security systems available today.