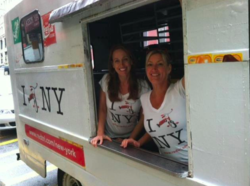 New York, NY (PRWEB) May 03, 2012
This week, Red Tricycle, a digital city guide for parents, launched it's first-ever New York City community and newsletter edition. The San Francisco-based media company, which has built a loyal following on the West Coast, delivering 600,000 pint-sized email newsletters per week to families in San Francisco, Los Angeles, Seattle, Portland and San Diego, is now pedaling to the biggest media sandbox on the East Coast – the Big Apple!
To celebrate the launch of Red Tricycle NY, New York families are encouraged to look out for the "Red Tricycle Party in the Park Tour" to arrive in their neighborhoods.
On Friday, May 4th, Red Tricycle's ice cream truck will be parked outside various kid-friendly parks and locations, offering free popsicles, balloons and lollipops. Locations to include:
Friday, May 4th Downtown/Midtown
10:00 - 10:30am Estella:493 6th Avenue, Karma Kids Yoga: 104 W 14th St, 10011
11:00 - 11:30am Washington Square (with NYC Dads Group) 10012
12:00 - 12:30pm Pink Olive: 439 East 9th Street, New York, NY 10009
1:00 - 1:30pm Citybabes: 52 Mercer Street, New York, NY 10013
2:00 - 2:30pm Kidville Tribecca 200 Church Street, New York, NY 10013
For additional stops on the tour,and to make sure the truck is running on schedule, follow Red Tricycle on Twitter @Red_Tricycle for real time updates on the location for each stop! To join Red Tricycle New York, go to http://www.redtri.com/new-york
About Red Tricycle:
Founded in 2010, Red Tricycle is a digital media company that provides authoritative, localized content (things to see, eat, and do with kids in a city) to its growing online community of busy urban moms through a variety of communication devices: email, website, social media, RSS, mobile. Their mission is simple: To help parents have more fun with their kids.