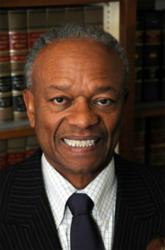 We are thrilled that an attorney and judge with his incredible breadth of experience is now part of our team.
New York, New York (Vocus/PRWEB) March 01, 2011
The New York City personal injury and medical malpractice law firm of Okun, Oddo & Babat, P.C. is pleased to announce that the Honorable Randolph Jackson has joined its firm as "of counsel."
The Honorable Randolph Jackson was born in Bedford-Stuyvesant, Brooklyn, New York. He graduated from the prestigious Stuyvesant High School in Manhattan, got his undergraduate degree from New York University and earned his Juris Doctor from Brooklyn Law School.
After working in the Wall Street Law Firm of Nixon, Mudge, Rose, Guthrie, Alexander and Mitchell and engaging in countless community service, legal and charitable activities, Randolph Jackson served as a housing court judge, a civil court judge and a criminal court judge. Justice Jackson was then elected to a 14 year term as a justice of the Supreme Court of the State of New York. He was re-elected in 2002 to a second consecutive 14 year term on the NY Supreme Court.
The Honorable Randolph Jackson is a life member of the NAACP and the National Bar Association. He is an author, Bible teacher, empowerment consultant, motivational speaker and patron of the arts.
"We are thrilled that a lawyer and judge with his incredible experience is part of our team," says firm partner David M. Oddo.
About the Firm
Okun, Oddo & Babat specializes in the representation of victims who have suffered serious personal injuries. The firm represents accident victims in all areas of personal injury arising out of automobile accidents, medical malpractice, hospital negligence, defective products and drugs, premises liability, construction site accidents and wrongful death. The firm's attorneys handle civil litigation and trials in both the State and Federal Courts. They also offer high quality representation in all types of criminal and commercial matters.
The firm's seven attorneys, with more than 100 years combined experience in civil litigation, strive to provide responsive service to all clients and handle their cases with efficiency and professionalism. The firm is known for integrity, experience and creativity as well as a history of successful case results.
For more information about the firm, please go to http://www.ooblaw.com/ or call 212-642-0950.
Okun, Oddo & Babat, P.C.
8 W 38th St # 900, New York, NY 10018-6369
(212) 642-0950
# # #