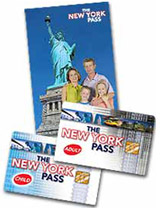 New York, NY (PRWEB) September 12, 2011
For an easier user experience and additional user interaction, the New York Vacation Club announces a new and improved website. The new website invites users to post their own reviews for a chance to win prizes.
"The old New York Vacation Club web site was in desperate need of not only an update, but we wanted to provide our readers a more valuable experience," states Carmen Canas, Vice President at New York Vacation Club.
"We not only want to provide a valuable resource for New York tourists wanting to find discounts and savings when visiting the greatest city in the world, but want to offer a more interactive user experience on the website," continues Canas.
The new web site organizes its content and resources in easy-to-find tabs, offering users valuable information and tips about the various New York Pass cards available to New York tourists:

New York Pass
New York Explorer Pass
CityPass New York
Gray Line New York Sightseeing
Hot Tips
In addition to the valuable content and resources, the new web site offers users an interactive experience of posting reviews, stories and pictures of their own New York City vacation experience. And for those users who have not yet visited NYC, users can post about their favorite stories or what they would like to do while in New York when they are able to experience a trip.
For more information and to explore the new interactive website:
Visit: New York Vacation Club
To write New York Vacation Club site Reviews:
Visit: Write New York Pass Reviews & Stories
About New York Vacation Club:
Part of Go City Travel, LLC, has been reviewing New York attraction passes since 2006. As a leader in New York tourism products, our goal is to become a leading authority on attraction-based tourism products in New York with a focus on educating people for smart buying decisions when traveling to New York City.
# # #