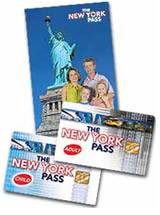 "These tips are designed to providing tourists the real scoop and insider tips on how to further maximize their dollars when choosing the New York Pass."
New York, NY (PRWEB) January 11, 2012
The New York Vacation Club, which is an independent comparison Guide for New York City travelers, is pleased to announce the launch of their review and tips on maximizing the New York City attraction pass, 'The New York Pass'.
New York Vacation Club provides a place for NYC tourists to compare and review the different New York attraction passes that are available for money-saving admissions to many famous New York attractions and landmarks.
"In general, the New York Pass is an awesome money saver," stated Carmen Canas, Vice President of Business Development at New York Pass Review. "These tips are designed to providing tourists the real scoop and insider tips on how to further maximize their dollars when choosing the New York Pass."
The various City Pass programs are specifically designed to save travelers money and offer discount entry or admission into the most famous landmarks and New York City attractions. While all the attraction passes offer money saving deals to see the various tourist attractions in New York City, the New York Pass remains the best attraction pass for New York tourists offering unrestricted admission to over 55 NYC attractions.
For more information on the New York Vacation Club's Tips:
Visit: New York Pass Tips
About New York Vacation Club:
Part of Go City Travel, LLC, has been reviewing New York attraction passes since 2006. As a leader in New York tourism products, our goal is to become a leading authority on attraction-based tourism products in New York with a focus on educating people for smart buying decisions when traveling to New York City. We want to ensure that NYC tourists have a great visit to our wonderful city. We like happy tourists because they end up coming back to New York!
###