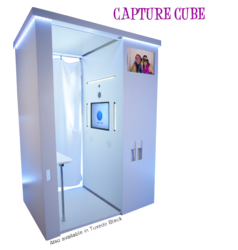 It's entertainment,fun and a favor all in one!
Hicksville, NY (PRWEB) December 16, 2011
It's about this time of year when office managers start scrambling to put the finishing touches on the office holiday party. Last minute details often include all sorts of items from final head counts to decor. One thing that office managers are paying more attention to this year is the entertainment they choose. In these economic times it is more important than ever to get as much value as possible from budgets that may not be as large as in the past. With this in mind, party planners are turning to Incredibooths' New York Photo Booth, the Capture Cube.
A photo booth rental from Incredibooths does double duty as a very cool branded photo favor for guests while also providing a fun an unique entertainment experience! All party goers love piling into the photo booth rental and showing off their wild side! Even the most conservative office types tend to loosen up and have some fun once the curtains close! Best of all, every photo booth rental includes unlimited pics, so guests can have a blast without anyone having to worry about going over budget. Companies from all fields have entrusted their guests' smiles to Incredibooths including FOX, The College Board, Morgan Stanley, MTV, ZocDoc, ITS Solutions, Verizon Wireless, The Restaurant Group, Rotex Data, North Shore LIJ, Macy's, and many many more.
For more information on how to rent a photo booth for an event contact Incredibooths directly via phone or email today. Week-day reservations are still available along with extremely limited week-end openings. Ask about including a corporate logo, or branding the photo booth rental with a new product line, logo, or anything else appealing. The options are endless! A photo booth rental can also be a great marketing tool year round, those interested should again contact Incredibooths directly.
Incredibooths services the entire NY-Metro Area. It's Photo Booth New York division is responsible for all major photo booth events including corporate marketing, touring, experiential marketing initiatives, and customized data mining solutions with the use of photo booth technology.
To rent a photo booth visit http://www.incredibooths.com or call 631-320-8580.
###