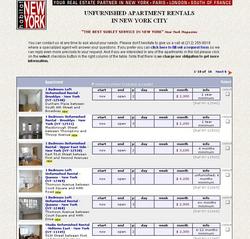 I look at this as a chance to expand the company
New York, NY (PRWEB) December 13, 2007
New York Habitat is pleased to announce the beginning of its New York Unfurnished Apartment Rental Department. Building on over 18 years of success in the furnished apartment rental market, New York Habitat has compiled a team of experienced professionals to serve the needs of clients looking for long-term housing in New York City.
In preparation to offer this new service, the entire organization has worked to put together a network of owners and partnerships with others in the real estate industry in order to create an ever-expanding roster of apartments. New York Habitat's current offerings include everything from efficiency studios for cost-conscious consumers to luxurious lofts and penthouses. For information about pricing, view the latest New York Habitat Apartment Price Range Table.
New York Habitat's client base is unique compared to many in the industry because of the company's international background. With agents speaking over a dozen languages and offices not only in New York, but also in Paris, London and the South of France, the company is particularly well equipped to deal with clients from around the world. The unfurnished rental department at New York Habitat will continue to offer clients unparalleled service.
This service is provided by some of the most experienced agents in the city. "I look at this as a chance to expand the company," one of the founding team members, Victor Wareham, says. "By expanding to unfurnished apartment rentals New York Habitat will be able to offer a full selection of apartment rentals and to grow an exciting new market for the business." The agents, like the company, take the view that service is paramount and offer the personal relationship that the larger companies cannot offer.
Founded in 1989, New York Habitat is a fully licensed residential real estate agency, specializing in both furnished and unfurnished apartment rentals in New York, Paris, London and the South of France (Provence and French Riviera). With the help of our multilingual and multinational agents, apartments can be selected from a worldwide inventory of more then 12,000 carefully chosen properties that are available from three days up to one year or more.
We invite you to view the current selection of apartments by visiting The Unfurnished Apartment Rentals page of New York Habitat website. Check back on a regular basic to see the newly updated unfurnished apartment listings. If you are interested in renting an apartment, listing an apartment or learning more about this exciting new department, feel free to contact our team at:
(212) 255-8018
For more information about the local real estate market, neighborhoods represented by New York Habitat and other apartment rental topics, visit The New York Habitat Blog
###