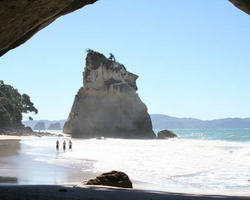 Kiwi Experience was conceived 21 years ago out of the need for a different kind of travel option (in New Zealand) for independent travellers.
(PRWEB) November 2, 2010
Kiwi Experience, the Kiwi adventure travel pass company famous for its iconic big green buses, has just turned 21 and is celebrating with the launch of an online poll to find out once and for all where the best spots are to experience the quintessential New Zealand.
Since the first Kiwi Experience tour set off on 28 October 1989, almost half a million travellers have chosen to see New Zealand their own way with a Kiwi Experience hop-on, hop-off bus travel pass. The unique Driver Guides still enjoy showcasing their backyard to thousands of Kiwis and international visitors each year.
Kiwi Experience Brand Manager, Liz Lindsay, says the team is extremely proud to be celebrating 21 years on the road with a brand that is still true to its Kiwi roots, and is really excited to see the results of the poll.
"Our Kiwi Experience Crew have put together a shortlist of the best places and things to do, so travellers to New Zealand can pick their overall favourite hidden gems. We know that our Kiwi Experience passengers are some of the best-travelled people on the planet and are bound to have an opinion on these top places and activities New Zealand has to offer – from where to find the best pie, to where to see the most breathtaking sunset," says Liz.
When Kiwi Experience founders Neil Geddes, Mike Warren and Duncan McWhannell returned from some time overseas in the late 1980s, they began to see New Zealand in a different light. They saw that there could be a better way of showcasing the country to the world and provide unforgettable experiences for travellers.
"The idea for Kiwi Experience was conceived 21 years ago out of the need for a different kind of travel option for independent travellers," says Liz. "We wanted to give people more choice in where they went and what they saw when they visited New Zealand, while still benefitting from the local knowledge of an experienced Driver Guide."
After 21 years, the bus routes may have changed and the number of destinations grown, but the original concept is still very much intact with more than 25 different New Zealand travel passes and countless activities available for passengers to truly customise their trip.
To contribute your suggestions to the poll, learn more about Kiwi Experience tours or to book your own legendary hop-on, hop-off bus travel pass, visit http://www.kiwiexperience.com or our Facebook page.
# # #