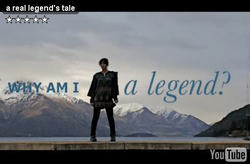 There's no place like it on Earth and I'm ridiculously excited to get back!
(PRWEB) March 5, 2010
A budding filmmaker from the USA has been announced as the winner of Kiwi Experience's 20th birthday competition, winning a 'legendary Kiwi Experience' thanks to the experts of NZ backpacker bus adventures.
Self-professed 'legend' Rachael Gammon of Virginia won the worldwide competition after uploading a video to the Kiwi Experience website explaining why she should be chosen to be a legendary backpacker bus passenger.
Rachael claimed the title of 'legend' due to her ability to skateboard in heels, chase jalapeno peppers with hot sauce harvested from the sun and drive on the wrong side of the road blindfolded!
Kiwi Experience Brand Manager Liz Lindsay says, "We're really excited to be celebrating our 20th anniversary with Rachael and we hope that New Zealand gives her some inspiration for future films!"
In the past two decades, the Kiwi Experience team has grown significantly but has retained the original vision of giving each and every bus traveller a mind-blowing experience while in New Zealand.
"We hope Rachael will enjoy travelling with the Kiwi Experience team. We will certainly do all we can to make her trip as legendary as she is," says Lindsay.
This will not be Rachael's first visit to New Zealand but she says she is excited to be returning to what she believes is the most incredible place on Earth.
"Everywhere, breathtaking scenery surrounds you to provide a dramatic backdrop for unique experiences that will inspire the adventurous spirit in the most unlikely of people. There's no place like it on Earth and I'm ridiculously excited to get back!" she says.
The Kiwi Experience team began their worldwide search for a legendary backpacker bus passenger to join them on the road in October 2009, in celebration of 20 years spent showcasing our backyard to hundreds of thousands of travelers."Would-be" legends were encouraged to upload their videos to the interactive Kiwi Experience website.
Rachel has won for herself and a mate a grand prize worth over $13,000NZD including flights to New Zealand, a Kiwi Experience Funky Chicken backpacker pass and 20 of Kiwi Experience's favourite experiences including tramping the Tongariro Crossing, hiking on Franz Josef Glacier, canyon swinging in Queenstown and whale watching in Kaikoura.
More details are available on the website http://www.kiwiexperience.com.
To watch Rachael's winning entry go to http://www.kiwiexperience.com/communities/pages/DisplayPost.aspx?PostId=1237.
###