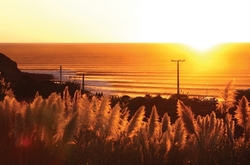 We are very pleased to offer backpackers the chance to encounter one of our most spectacular beaches by putting Raglan on the Kiwi Experience map
Auckland, New Zealand (PRWEB) October 15, 2008
Kiwi Experience, THL's legendary hop-on, hop-off New Zealand backpacking service, has expanded its tours to include renowned Waikato surf-spot Raglan.
Raglan now features in four of Kiwi Experience's most popular national backpacking passes including The Full Monty, Kitchen Sink, Top Dog and The Whole Kit and Caboodle.
The new destination is also the focus of two entirely new regional passes, the Raglan Wave Runner which runs from Waitomo to Raglan return, and the Caves and Waves pass where backpackers can jump on at Taupo or Rotorua, and visit Raglan and Waitomo, before returning to either pick-up point.
The Raglan Wave Runner offers Kiwi Experience travellers a true New Zealand west-coast beach experience, and can be taken as either a day trip or an overnight stop, with accommodation options available.
The inclusion of Raglan is a reflection of just how much the town has increased in popularity as it's grown from a tiny surfing-village to a vibrant beachside getaway says Kiwi Experience General Manager, Brendon Pope. "Raglan is now a sought-after travel destination for Kiwis and international tourists, and to ensure our passengers get a taste of the action, we've made it the focus of two new passes, as well as a feature stop in four of our main passes.
"We are very pleased to offer backpackers the chance to encounter one of our most spectacular beaches by putting Raglan on the Kiwi Experience map", says Pope.
Raglan is considered to have one of the best right-hand surf breaks in the world, playing host to a number of surfing competitions. It's also home to a popular surf school where Kiwi Experience passengers can go for a lesson before testing their skills at Manu Bay, Whale Bay or The Indicators. Other activities offered at Raglan include kite-surfing, fishing, skydiving, paragliding, blow carting, walking to the summit of Mount Kariori, or taking a short hike alongside the Pakoka River up to the spectacular 55 metre high Bridal Falls.
Visitors can also spend their time exploring the surf-village with its boutique clothing, art and jewellery stores, as well as great café dining.
For more information visit http://www.kiwiexperience.com.
# # #