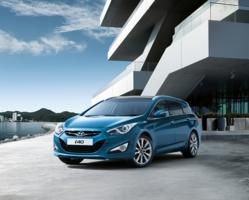 The i40 Wagon is a perfect example of how we are offering the best and making it accessible to everyone.
Auckland, New Zealand (PRWEB) January 25, 2012
Hyundai Motors New Zealand is launching it's new station wagon, i40 Wagon this week as the car becomes available throughout Hyundai dealerships in New Zealand. To launch the car, Hyundai are giving anyone who takes the car for a test drive the chance to drive it free for one month.
'Modern premium' is the promise from trend-setting Hyundai, which believes premium quality and characteristics should be accessible to everyone.
The all-new i40 Wagon embodies it with several firsts for the segment: heated and reclining front and rear seats; a heated steering wheel; and an active de-mist system that automatically detects and clears mist on the windscreen.
The i40 Wagon will be best in class with Hyundai's 1.7-litre diesel engine, codenamed 'UII', emitting just 113 g/km of CO2 emissions.
Designed and engineered at Hyundai's R&D headquarters in Russelsheim, Germany, the i40 Wagon is the company's first Large segment vehicle to be developed specifically for the European market. For the New Zealand market, the suspension system has also been specifically tuned for New Zealand roads, which tend to be have more sudden hills, short straights and winding inclines than in the European market.
Taking styling cues from Hyundai's 'fluidic sculpture' design language, the i40 maintains signature features such as the hexagonal grille.
"This gorgeous new i40 Wagon reflects the spirit of change at Hyundai, and for Hyundai New Zealand as well," said the Chief Operating Officer of Hyundai New Zealand, Tom Ruddenklau.
"The i40 Wagon is a perfect example of how we are offering the best and making it accessible to everyone."
"For example that best-in-class CO2 figure demonstrates the advances we are making towards global leadership in eco-technology," said Mr Ruddenklau.
The wagon will be the first i40 body style in New Zealand with a sedan to follow. It is the second station wagon to be offered by Hyundai in New Zealand with the smaller i30 Wagon already being available for the last two years.
# # #