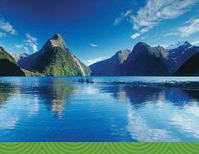 Environmental friendliness is another area where Green Realm Travel is a fit with the PURE LUXURY New Zealand show
Auckland, New Zealand (PRWEB) February 20, 2008
PURE LUXURY New Zealand 2008, which is held in Queenstown on 21- 23 May at the brand new Commonage Villas, will showcase the very best luxury tourism products New Zealand offers. 45 operators will promote their luxury tourism products and experiences to 45 international travel specialists who sell New Zealand accommodation and experiences to the luxury market.
Green Realm Travel Managing Director, Tim Cantlon, believes the company's unique position as high-quality focussed operators of New Zealand luxury tours was a key reason for their selection as sponsor and transport provider.
"Green Realm Travel is a luxury, small group tour company offering discerning travellers the essence and very best of New Zealand. This is validated by our selection as a partner to PURE LUXURY New Zealand 2008."
Green Realm Travel's first of kind coaches are ideally designed to transport the international travel specialists attending PURE LUXURY New Zealand. They have 18 first class reclining leather lounge seats, one on either side of the aisle, state of the art surround sound systems, a 27 inch flat screen TV, and wireless internet access.
"We look forward to working with other operators in Queenstown to provide a seamless and highly memorable PURE LUXURY New Zealand 2008 experience," says Cantlon.
PURE LUXURY New Zealand is a participant in the carboNZero programme, and some of the emissions associated with delegate travel, electricity and catering will be offset through this programme.
"Environmental friendliness is another area where Green Realm Travel is a fit with the PURE LUXURY New Zealand show," says Cantlon. "Green Realm Travel's coaches have a 5 star plus rating for emissions tests and have been deliberately chosen to conform to the highest environmental standards."
Green Realm Travel's luxury tours of New Zealand showcase the best of the country's dramatic landscapes and offer a diverse range of interactive group activities, while incorporating the flexibility to accommodate independent options.
Their luxury travel packages include:

'Birthplace of the Nation' The North Island Tour
'Adrenaline Sparks and Spiritual Solace': The South Island Tour
'The Total Experience' The National Tour
And more recently they have added two different tours operating between May-September

Seasonal Sensations North Island
Winter Wonderland South Island tour
View their New Zealand luxury travel itineraries
###