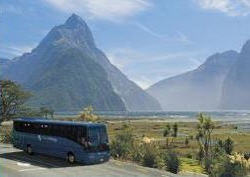 Like many new ventures we have experienced and felt pretty much every emotion, from the excitement of launching, through some disappointments, to the satisfaction from our first bookings and receiving exceptional customer feedback, all of which leaves us very optimistic about the future
Auckland, New Zealand (PRWEB) August 12, 2008
Green Realm Travel, the pioneering New Zealand luxury vacations and tours provider, takes stock and celebrates its first birthday after a roller-coaster year changing the perception that coach tours don't belong in the luxury travel market.
Managing Director, Tim Cantlon believes that the first birthday is a milestone worth celebrating for this trailblazing company. Green Realm Travel was launched in August 2007 in the knowledge that they were the first company to attempt to make New Zealand tours attractive to discerning travellers wanting luxury vacations.
"Discerning travellers expect the highest level of service and comfort. The choices we have made for transport, experiences, accommodation, and food and NZ wine ensure that these are all inclusive in the tour, thus providing maximum value for money."
New Zealand is all about its amazing locations. Until last year, the challenge for those looking for New Zealand luxury vacations has been finding a comfortable way to travel between these locations. The options until now have been either self-driving or coach tours. Central to the concept of Green Realm Travel's luxury tours are their purpose built luxury Coaches; configured with only 18 luxury leather lounge seats, one on each side of the aisle, 27 inch flat screen televisions, spacious on board bathrooms, and wireless Internet access to accommodate emailing and photo sharing.
"We are the first to do this on a sustainable platform, with our coaches rated by Vehicle Testing New Zealand as the cleanest running tour coaches in country and all of them fitted out with re-cycling bins. This means our customers can enjoy their vacation knowing that we are doing our up most to protect what they have largely come to experience; the New Zealand environment."
"The effort that Tim and his team have put into promoting and spreading the word about these first and best in class tours is commendable. It has been exciting, challenging and incredibly hard work, but the rewards are emerging in the form of excellent customer feedback and a strengthening forward booking pattern," says Green Realm Travel's Chairman Geoff Burns.
The company has taken time to reflect on some highlights in its first 12 months and Cantlon has highlighted the formation of the Green Realm Travel team, the coach launch event in Auckland attended by the Minister of Tourism - The Honorable Damien O'Connor, the first tour feedback forms commending Green Realm Travel's Driver Guides, participating in the PURE LUXURY trade show and the adoption of Green Realm Travel tours by a number of major wholesaler and direct sellers in North America, the U.K. and Australia.
"Like many new ventures we have experienced and felt pretty much every emotion, from the excitement of launching, through some disappointments, to the satisfaction from our first bookings and receiving exceptional customer feedback, all of which leaves us very optimistic about the future," says Cantlon.
"In the end we will judge our success by our team spirit, the New Zealand luxury vacations and tour experiences we deliver, the level of customer's satisfaction we provide and the financial returns to the shareholders; who have been so supportive in the launch of our company," says Cantlon.
For more info about Green Realm Travel's New Zealand luxury vacations please visit: http://www.greenrealmtravel.com
# # #