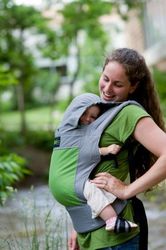 Boulder, CO (Vocus) August 24, 2010
NAP, Inc. today launched an affordable new soft-structured baby carrier - Boba Classic – http://www.bobababycarrier.com. The new baby carrier has all the features of the company's popular Boba 2G baby carrier, but is not organic, and is more affordably priced at $100 each. The Boba Classic baby carrier can be worn on the front or back of the adult and is ideal for carrying children weighing between 15 and 45 lbs. It is also considered one of the healthiest baby carriers, providing babies and toddlers with leg, hip and spine support with its unique patent-pending foot straps – a first-of-kind feature in baby carriers. It also features a sleeping hood for optimal head support. Both the foot straps and sleeping hood are removable on the child carrier.
The Boba Classic's first-of-kind foot straps ensure the child's knees are supported while their legs are placed at a natural 90-degree angle. When the child is seated in the Boba Classic baby carrier in this flexed abducted position (legs apart, knees bent) and oriented towards the carrying adult, their hips and pelvis naturally align taking pressure off of their spine resulting in increased support and maximum comfort for the child. The sleeping hood provides head protection from wind, sun, light rain and additional head support when baby falls asleep.
Additional benefits the Boba Classic baby carrier provides include:

The most affordable soft structured baby carrier available.
Maximum comfort for adults with a reshaped ergonomic waist belt featuring high quality foam.
Child is safe at all times with Boba Classic's ultra-secure waist belt featuring a military grade buckle.
Extremely easy to wear and use. The child can be carried on the adult's front or back.
Lightweight for adults – Boba Classic weighs less than 2 lbs.
No poking poles or metal parts. The comfortable Boba Classic is compact, adjustable, gently form fitting, and is 15" tall x 16" wide.
Completely adjustable and easily fits adults of all shapes and sizes.
Boba Classic is $100 and available in six new attractive colors: Twilight, Earth, Dusk, Mist, Breeze and Glacier. Visit http://www.bobababycarrier.com for store locations, more information or to purchase the Boba Classic.
About NAP, Inc.
Founded in 2006, Colorado-based NAP, Inc. is an environmentally friendly company that designs, develops, and manufactures premium carriers for baby wearing parents including the Boba 2G, Boba Classic, Boba Tweet, Classic Sleepy Wrap and Organic Sleepy Wrap – as well as the plush organic toy – Sleepy Bear.
Media Contact:
For high res images, press kit, samples -
RPR Public Relations, Inc.
Tel. 786-290-6413
###