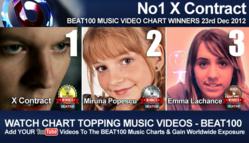 We've made so many friends through BEAT100 and believe it is the Facebook of the online music community, says Pedersen
(PRWEB) December 30, 2012
The Danish progressive rock band, X Contract, stole first place once again, thanks to their large BEAT100 fan base. The band uploaded their original song, "Realise", which is the third track to be released from their debut album, "Dearest Dream". X Contract received two BEAT100 Gold Awards for their professional, high quality video and for their well-written original track. The band have managed to rank up over 11,000 views and just under 3,000 votes from supportive users on their BEAT100 Music Video Chart, which topped their last view and vote rankings from their last two uploads.
X Contract are currently working on their second album, which will follow up from their successful 12-track album, "Dearest Dream". The album is due for release in mid-2013 and they have already begun writing and working on their first few original tracks. The Linkin Park and Muse influenced band intend to stick to a similar sound to their first album, but will also be bringing a new style to the table in order to keep things fresh. "Being compared with bands like, Coldplay, Porcupine Tree and Blackfield is something that really stands out," says lead singer Dennis Pedersen. "It's extremely difficult to make a name for yourself here because of the music industry in Denmark". Despite the struggle, X Contract have been going strong since 2007 and have managed to get their music played on English radio and have received excellent music reviews. "We've made so many friends through BEAT100 and believe it is the Facebook of the online music community," says Pedersen.
Miruna Popescu
The 11-year-old Romanian singer, Miruna Popescu, placed in second place with her cover of Britney Spears', "I Love Rock 'n' Roll", which featured in the 2002 film, 'Crossroads'. Miruna was just over 100 votes away from stealing the top spot from progressive rock band, X Contract, and received an extraordinary amount of support from fans both on and away from BEAT100. The Miley Cyrus inspired pre-teen has been performing publically since the age of just three when she joined a children's club. Miruna has appeared on television in Romania several times, both singing and presenting on a children's TV show. She has also won several awards in national music competitions, along with placing second in the international contest named, 'Volare' and winning the 'Dinu Maxer Trophy'.
"Miruna has many friends from all over the world who told her to participate on BEAT100," say Miruna's parents. "She has now added new friends who helped her to get second place in this important contest and would like to thank everyone for voting." Miruna will be starting at The Arts School, Canto in 2013 and BEAT100 hope to see her competing in the BEAT100 Music Video Chart soon.
Emma Lachance
At only 16 years old, Emma Lachance has already discovered her passion for music and is working on reaching her goals. Emma uploaded her cover of Adele's James Bond theme, "Skyfall", which received over 2,000 votes through the support of the public. The Parisian singer-songwriter has been influenced by a massive range of music, including Michael Jackson, Queen and Christina Perri. Emma discovered her passion for music when she played piano for the first time and has been promoting her music via YouTube, BEAT100 and Facebook ever since. "BEAT100 has been a really enjoyable experience and it's amazing to see that people actually enjoy my music," says Emma. "My biggest achievement is coming third in the BEAT100 Music Video Chart and it's great to finally have some helpful critics."