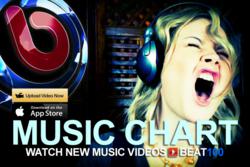 BEAT100 Has Given Both Me And Other Musicians The Ability To Showcase Their Talent
(PRWEB) January 08, 2013
BEAT100 the new music video and social network is growing more and more every day, with new users joining and videos being uploaded every hour. After all the positive feedback the social network has received, BEAT100 has created a 'Testimonials' page where users can find positive comments about the network from current BEAT100 users, this includes comments from previous BEAT100 Music Video Chart winners and regular users who use the social aspects of the network.
"BEAT100 has given both me and other musicians the ability to showcase their talents and abilities," says previous BEAT100 Music Video Chart winner, Sheaam Deen. "Unlike other sites, BEAT100 has lived up to all its promises and also let musicians from all over the world interact with each other and share each others thoughts and views. The experience thus far has been brilliant and I have my sight set on being a part of the BEAT100 family for a very long time." Sheaam is just one of our several BEAT100 users who has felt the network has been beneficial for his music and plans to continue his BEAT100 journey. BEAT100 aims to show users that it has more to offer than just a Music Video Chart as it also allows users to connect with each other in the friendly social community.
Regular BEAT100 users, Fusion Beat, seem to agree with Sheaam about the BEAT100 community and friendly feel of the music network. "BEAT100 has been a truly amazing experience. Not only have we gained Facebook followers and YouTube subscribers, but we've had the opportunity to network with some incredible artists," say the members of Fusion Beat. "We've received some great pointers and advice from more experienced musicians, and are corresponding with people from all over the world. There's even a group of musicians on the website that are collaborating together on a charity project that will help to bring music to under privileged children. We are very excited to help out with this!"
BEAT100 is proving to be a place were musicians feel they can upload their music and feel it will benefit them in some way; whether they gain new connections, likes and followers to Facebook and Twitter or include themselves in new collaborative projects with fellow users. Previous BEAT100 Music Video Chart winner, Geoff Sewell, says: "I have found BEAT100 to be a perfect launching board for making new friends, music contacts and promotion. It fills a huge gap in the market". Fellow users, Wild and Welsh, are feeling the same benefits as Geoff through the use of the network and told BEAT100: "Since joining, it has been amazing; we have met and now have friends, fans and followers from all over the world! It's brought more attention and hits to our YouTube and Facebook pages. Most importantly though, I think we have found it a humbling experience, the support and positive comments we have received have been overwhelming."
Music chart winner, Daniel Dobbs, is another dedicated BEAT100 user who feels the video network is the best current place for musicians to be seen, heard and rewarded on the current worldwide web. "I have to say, I've been impressed with how well the site has integrated other social networks like Facebook, Twitter and YouTube especially. I've been really surprised with the amount of support given on the chart," he says. "The social networking side of it has allowed me to gain more exposure on my other pages and even get talking with other artists contributing to the site and we've had some great conversations about what we do. I think it's a great website with real potential."