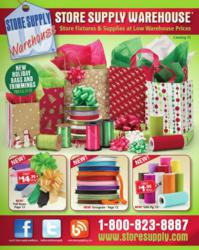 With the launch of Catalog 72, we're highlighting end-of-summer sales and holiday packaging to prep retailers for the holiday season.
St. Louis, MO (PRWEB) July 13, 2012
Store Supply Warehouse, a St. Louis retail supply company, released Catalog 72 last week. Highlighted in the catalog are wide selections of new products which will benefit retailers getting ready for the back-to-school and holiday seasons. Not only will new products be featured in the new catalog, but retailers will also find a variety of products at discounted and closed out pricing.
"With the launch of Catalog 72, we're highlighting end-of-summer sales and holiday packaging to prep retailers for the holiday season," said Matt Wohlstadter, President of Store Supply Warehouse. "This tends to be one of our busiest times of year, as retailers clear out the summer fashions, bring in the fall fashions and start decorating for the holiday season."
As kids look for new clothes for the upcoming school season, retailers find it advantageous to have new mannequins and body forms geared toward teens and children in their merchandise displays. Store Supply Warehouse has added plastic children's mannequins to their product selection, allowing retailers to highlight youth fashions with the correct size proportions. Additionally, Store Supply Warehouse has added headless half-body clothing forms, which are great for teen and high-school age clothing.
Store Supply Warehouse is also starting early preparations for the holiday season. With multiple additions to their retail packaging collection, retailers can get a jump start on stocking up for holiday packaging for the upcoming Christmas season. New Christmas shopping bags can be accompanied by new ribbon and raffia to add more color and flair to the bags in which customers carry home their new products.
"In retail, the holiday season starts when Fall begins. We know that our customers like being prepared when it comes time for the holidays, because it is their busiest time of year. The last thing they want to have to deal with is falling short on their holiday retail packaging. So by offering options sooner, rather than later, retailers can have the time to choose which style they want, and stock up for the coming months," added Wohlstadter.
As always, Store Supply Warehouse features a selection of reduced and discounted prices on a variety of items. With closeouts on frosted plastic shopping bags, display case lights, and other store fixtures or supplies, retailers can find everything they need at the lowest price, guaranteed. Store Supply Warehouse keeps their full catalog in stock at all five warehouse locations, so same-day shipping is available on all orders placed before 3 p.m.
For more information about Store Supply Warehouse or to request the new catalog, visit the company's website: http://www.storesupply.com.
About Store Supply Warehouse
Store Supply Warehouse was founded in 1994 in St. Louis, and has since seen immense growth, selling retail fixtures and retail store supplies, including display cases, racks and shelving, shopping bags, hangers, pricing and tagging guns and mannequins. The distribution chain takes pride in its quick transaction process, efficient delivery, and quality customer service. Products are available for purchase through Store Supply's catalog, which is updated and distributed four times a year, or online at http://www.storesupply.com. Same-day shipping is guaranteed on all orders placed before 3 p.m. The company's main office is located at 9801 Page Avenue, St. Louis, Missouri, 63132. Contact Store Supply directly at 800-823-8887 or by email at contactus(at)StoreSupply(dot)com.